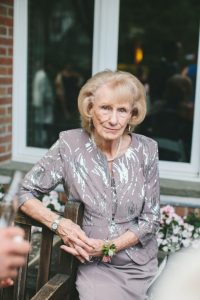 Helene Carmel Sireci was born October 12, 1921 in San Anselmo, CA and passed away in Webster, TX on July 9, 2023 at the age of 101. She lived in League City and Friendswood area for over 20 years. Helene enjoyed going to the Friendswood Senior Center and loved being a member of Ladies of the Knights of Columbus with her church St. Mary of the Expectation Catholic Church in League City.
Helene is reunited with her husband of over 50 years, Joseph Francis Sireci, Jr. and her son, Joseph Francis Sireci, III.
She leaves behind her daughters: Catherine Salerno husband Anthony; and Charlene Sireci; sons: Michael P. Sireci, wife Barbara, Paul F. Sireci, wife Annabelle, and James Sireci, wife Emiko; fifteen grandchildren and nineteen great grandchildren. She was a loving wife, mother and adored her grandchildren and great grandchildren.
Helene volunteered as a nurse during WWII, and met her husband, Joe Sireci, a Navy Pilot, and married in 1946.  They lived in Hawaii before settling on the East Coast.  Joe and Helene traveled throughout the world.  During her career, Helene worked as a clothing buyer for major retail stores and was a Master Doll Maker and teacher of reproduction antique dolls.
Memorial donations can be made to the Friendswood Senior Center
https://www.ci.friendswood.tx.us/356/Senior-Citizen-Program, 416 Morningside, Friendswood, TX 77546