On June 6, 2014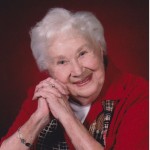 went to her eternal rest, peacefully and surrounded by her children. She was born Helen Mae Mathilda Hubbard to Thomas Edward and Cora Lucille Hubbard on December 5, 1929 in Seattle, Washington.
Helen Mae grew up in the Ballard neighborhood of Seattle. At a young age she learned to play the piano and accordion. Her musical talents afforded her many opportunities to perform all over the country. She graduated from Ballard High School in the class of 1947.
Later she developed an interest in the theater, declining a scholarship to attend the Boston Conservatory, she instead attended the Drama Departments of the University of Washington and UCLA. After college she spent time performing with the Virginia City Players, a theatrical troupe in Montana and then joined the USO. Her travels with the USO took her to Alaska in 1958 and it was there she met and later married James Claffy who was serving in the United States Air Force. Their early days were filled with the joys and challenges of raising five children while her husband served his country on assignments around the world. Posts in Germany and Pakistan were especially challenging and rewarding for her entire family.
As her children grew, she turned some of her attention to doing things she had enjoyed earlier in life. For many years she played the piano for the choir at St. Paul The Apostle Catholic Church in Nassau Bay, Texas. She was a member of the Athenaeum Club where she met many wonderful friends. After her husband passed away, she met many challenges head on… losing her home in Taylor Lake Village to the flood waters of Ike, she moved to Pearland, Texas. There she joined a theatrical group, The Country Place Players, and a musical group, The Ragtimers. Meeting new friends and getting back to her theatrical interests was a great pleasure for her.
Her time here was rich, filled with the love of family and good friends. She handled the adversities of life with grace and dignity. Now she has gone to a better place and her earthly struggles have been lifted from her shoulders. For that we are grateful, but she will be dearly missed.
Surviving Helen Mae are her five loving children James Claffy (partner Robert Orleanski), Kathleen Johnson (husband Mark), Susan Claffy, Pamela Stephens (husband Mark), and Thomas Claffy (partner James Sessel). Additionally she is survived by three devoted grandchildren Erin Stephens, Austin Stephens, and Ella Piper Claffy.
Her family would like to thank the dedicated doctors, nurses and staff at Baylor College of Medicine, St. Luke's Hospital, and Houston Hospice. With special notes of appreciation to her long-time physicians Drs. James P. Herlihy and Yochai Birnbaum.
Visitation will be held on Tuesday, June 10, 2014 from 6:00 PM to 8:00 PM with a Vigil Service at 7:00 PM at Crowder Funeral Home, Webster, TX. Mass will be held on Wednesday, June 11, 2014 at 10:30 AM at St. Paul Catholic Church, 18223 Point Lookout Drive, Nassau Bay, TX 77058. Interment will follow at Forest Park East Cemetery, Webster, TX.
If so desired, memorial contributions can be made to Houston Hospice (http://accreditedhospicesofamerica.com/) or Citizens for Animal Protection (http://www.cap4pets.org/) in lieu of traditional remembrances.