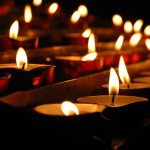 A Memorial Service will be held on Friday August 8 at 10:00AM at St. Barnabas Episcopal Church, 107 E. Edgebrook Dr, Houston, TX 77034. A graveside service with Military Honors will be held at Houston National Cemetery, Houston, Texas on Monday August 11, 2014 at 2:00 PM.
Hayden Fisher Jones, 89, passed away in Webster, TX on August 1, 2014. He was born on January 7, 1925 in Angus, TX to Levi Edward Jones and Carrie Belle Fisher-Jones. Hayden is survived by his daughter, Victoria Anne Jones; son, David Hayden Jones; and his brother in law William Dewitt Paul Jr; and numerous family members and friends.
Hayden served in the Navy in the Pacific during World War II.  He then used the GI Bill to attend the University of Texas where he met his wife.  He was married just before shipping out for the Korean War.  The family joked that he spent his honeymoon on a cruise to Hawaii.  After returning from Korea he settled in Houston and finished his Bachelor's degree in Electrical Engineering from the University of Houston.  He worked for Houston Lighting and Power for 37 years and retired in 1986.
Hayden had a passion for gardening and loved to plant flowers around his house.