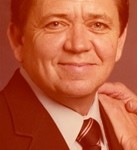 Harold S. Roach, 81, passed away on Jan. 29, 2014 in Houston, TX. He was born on Oct. 16, 1932 in Naples, TX to Enis and Dorothy Roach. Harold is survived by his loving wife of 58 yrs., Sue Roach; daughters, Darlene and Jim Funk, Lynn and Matt Dozier, Sherri and Gary Dozier; sons, Sheldon and Stefanie Roach, Greg and Kaysie Roach; 9 grandchildren; and numerous family members and friends.
Harold was a Corporal in the United States Army and served in the Korean War. Harold worked for Armco/National Oil Well for 37 years and retired in 1993. He had a passion for camping and loved to watch all sports.
Visitation will be held on Friday, Jan. 31 from 6:00 PM to 8:00 PM with a Rosary at 7:00 PM at Crowder Funeral Home, Webster. The Funeral Service will be held on Saturday, Feb. 1 at 12:00 Noon at Crowder Funeral Home, Webster. Interment will follow at Mt. Olivet Catholic Cemetery, Hitchcock, TX.