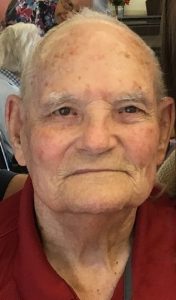 Harold Milton Allen of Dickinson, a 32nd-degree Mason and Shriner, who served in the U.S. Marines in the Korean Conflict, passed on his 87th birthday, Feb. 5, 2017, in League City.
Born in Victoria, Texas, in 1930 to Homer and Nora Allen, Mr. Allen previously lived in Harlingen, Texas, before moving to Dickinson in the 1970s with his wife, Margie Allen. Both are retired Wal-Mart employees and attend Pine Drive Baptist Church in Dickinson.
Mr. Allen attended Galveston Ball High School before joining the Marines. He fought in the infamous battle at the Chosin Reservoir in Korea.
Surviving family, in addition to wife Margie, include three children, Harold Ray Allen of Glendale, AZ, Sergio Garcia of Dickinson, and Sharon Allen Toth of Angleton. He has one brother, Marvin Lee Allen, of Galveston County, and three sisters, Margaret Bouquet, of Santa Fe, Beulah Dunaway of Austin, and Mary Lou Bailey of Paris, AR. He has seven grandchildren and three great-grandchildren. One sister, Dorothy Bouquet of Alvin, preceded him in death.
A visitation service will be held at Crowder Funeral Home in Dickinson on Thursday, Feb. 9 from 5–7 p.m.
The memorial service will be held at Crowder on Friday, Feb. 10, at 10 a.m. Pastor Ted Duck will officiate. Burial will follow at Grace Memorial Park in Hitchcock with a Masonic and military tribute. Pallbearers will be Robert Allen, John Toth, Bobby Toth, David Johnson, Will Seidensticker, Chris Jones, Lou Munson, Kenny Bouquet, and Ron Boatright.
The family wishes to thank the staff, residents, and families at Regent Care Center in League City for their care and friendship.
In lieu of flowers, memorials can be made to the Marines' Toys for Tots program (http://www.toysfortots.org/donate/Default.aspx) or to the Shriner's Hospital in Galveston (http://www.shrinershospitalsforchildren.org/en/donate).