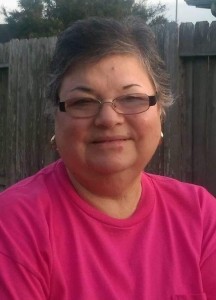 Guadalupe Cortez, a resident of Pearland, TX since 1973, went to be with the Lord on January 12, 2016, which was her 69th birthday. Mrs. Cortez was a loving, caring stay at home mother, and a wonderful wife to her husband of 44 years.
She leaves behind to cherish her memories, her loving husband Jose Cortez, daughters: Belinda Papadakis and fiancee Michael Moncibaiz, and Elisa Cortez; sons: Jaime Cortez and wife Cynthia, Eloy Cortez and wife Daizy, grandchildren: John Papadakis and fiancee Yasmine Yasin, Josef Papadakis, Lisette Cortez, Aubrie Cortez, and Avery Cortez; sisters: Librada McLeister and husband Tommy, Maria Atkinson and husband Alex, Lina Kitchens and husband Paul, and Herminia Ramirez; brothers: Andres Alvarez Jr. and wife Maria, and Johnny Alvarez. As well as numerous nieces and nephews.
Mrs. Cortez is preceded in death by her parents Andres and Micaela Alvarez, brothers Fabian Alvarez, Benito Alvarez and Enrique Alvarez and sister Josefina Trevino and son in law Konstantinos Papadakis .
A visitation will be held on Saturday, January 16, 2016 from 9:00 to 11:00 a.m. at St. Helen Catholic Church, with a mass to begin at 11:00 a.m. Burial to follow at South Park Cemetery.