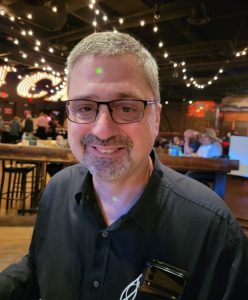 Gregory Alan Papich, 58, passed away on Monday, July 17, 2023 in Webster, Texas. He was born November 1, 1964 in Chicago, Illinois to Alvin Papich and LaVerne (nee Bocian) Papich.
Gregory graduated from Portage High School in 1982. Directly after high school he enlisted in the United States Air Force where he served in Colorado and Germany. In 1994 he met Sandra Ann Wiese and after dating for one year, married on January 2, 2003.
Gregory loved his family beyond words and was an amazing husband, father, grandfather, son, brother, uncle and friend. Gregory would want his beautiful bride to always remember…..1, 2, 3.
Gregory leaves behind his loving wife Sandra, son Jason (Nicole), daughter Marissa, grandson Jacob, mother LaVerne, sisters Teresa Salcich and Paula Papich (Beth), brother David, nieces Lisa Ventura, Christy Wiese and Beth Salcich, nephews Andrew Salcich and Zach Salcich (Jennifer), extended family and hundreds of friends.
The family would like to especially thank the great doctors, nurses, therapists, technicians and support staff of The Heart Hospital at HCA Houston Clear Lake, CCU. The care, expertise and support you provided Gregory and family allowed us one extra month with him and we will forever be grateful. We would like to give special recognition to the hospital staff that worked diligently for us that last hour and a half of his life, giving us the most previous time of our lives. We will never forget those moments.
A memorial service will be held on Saturday, July 22, 2023 at 2:00pm at Crowder Funeral Home in Webster, Texas (111 E. Medical Center Boulevard).
In lieu of flowers, the family ask that you please donate to a charity that you hold close to your heart, in Gregory's honor.