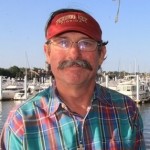 After a courageous battle with Alzheimer's Disease, Gregg Troop, 58, passed peacefully from the arms of his loving wife Dianne Williams Troop into the open arms of his Lord and Savior, Jesus Christ on June 16, 2014. Gregg, a true Texan at heart, lived a Christ filled life and selflessly dedicated himself to serving others, his church and God.
Gregg was loved by countless friends and his co-workers that became family over the 30 years he spent working with them offshore in the oil and gas industry. His good hearted nature and fun loving spirit was easy to love and will be sorely missed by all. He and Dianne shared the love of travel and especially vacationing in the mountains of New Mexico and Colorado and on the beautiful Florida Panhandle beaches where he planned to retire.
Gregg had a passion for golf and football and he loved to entertain in his and Dianne's home in League City Texas. He was well known for his skill with his BBQ smoker so Sunday and Monday night football games were filled with love, laughter and his famous citrus stuffed chickens and pork loins. If you were ever in need , Gregg was first in line to lend a helping hand in any capacity necessary.
Gregg raised two beautiful daughters that he took great pride in. Gregg shared his love of nature with his girls and took them on many family camping trips. The girls knew that their daddy loved them unconditionally and they gained great strength throughout their lives in that knowledge.
Gregg is preceded in death by his father Gerald and survived by his wife Dianne, his mother Jean and brother Scott, his daughter Sheena and her husband Frank Flores Jr. and their daughter Emily, his daughter Macey and husband Mark Ortiz, and their children Cameron, Camilla, Mark Jr and Saria.
A celebration of his life will be held June 28, 2014 at Crowder Funeral Home in League City Texas at 2:00 pm. In lieu of flowers donation can be made to The Jeanette Williams Foundation or the Gregg Troop medical expense fund at A Helping Hand Up.org .