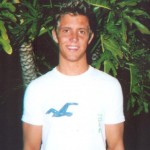 Grant Earl Larronde, son of Michael Louis and Elaine (Vrabel) Larronde was born February 19, 1986 in Webster, Texas.  His Dad, Mike, died on September 12, 2010, Grant joined him on June 22, 2014.  He will be greatly missed by his mother, Elaine, sister, Tiffany; other relatives and friends.  A visitation will begin at 9:30 am Saturday, June 28 at St. Bernadette Catholic Church, 15500 El Camino Real, Houston, TX, 77062.  The Rosary will be recited at 10:30 am followed by a Mass at 11:00 am.  The family will receive friends following the service in the fellowship hall.  In lieu of flowers, a donation may be made payable to the Polish Union of U.S.A., P.O. Box 660, Wilkes-Barre, PA, 18703-0660. They will be offering a scholarship in memory of Grant.
The following was read by his mother, Elaine at the service:
Oh my God! Oh sweet Jesus! Please give me the strength and the faith to endure my precious son's untimely and tragic passing as I endured his father's horrific passing almost four years ago! Love, happiness, success, peace, these beautiful words Mike and I attached to our hopes and dreams for Grant's future as we reached out to hold him on the day he was born over 28 years ago. Time raced by, play dates, family holidays, private schools, cub scouts, alter server, soccer, little league, tae kwan do, American Red Cross, lifeguard, snow skiing, snorkeling, cruses, fishing, football, TX A&M, Corpus Christi, Phi Delta Theta fraternity, University of Houston, through these years Grant reached out to us with his love, laughter, innocence, compassion and zest for life. Mike and I, in turn, reached out to embrace him with our love and everything we had. As Grant greatly struggled with his dad's passing, I struggled to reach out to Grant. The love, happiness, success and peace that Mike and I envisioned for our son's long life was not his fate. Instead our son left our world and is in the arms of God in Heaven where his soul is at peace and at rest with his Dad!