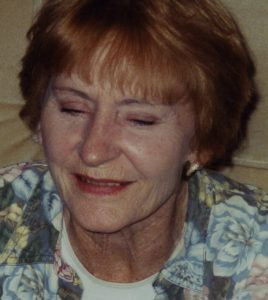 s, 83, resident of Texas City, Texas passed from this life, Saturday, October 14, 2017 at Bayou Pines Care Center. Surrounded by family and friends. She was born July 19, 1934 to proud parents, Charlie and Thelma Fade in Athens, Texas.
Gertie was a woman ahead of her times. With only a high school diploma, she accomplished a 40-year career with American National was included many responsibilities such as a real estate/ mortgage analyst. Her life was full enjoying swimming, skiing, playing basketball (very well), but of all her accomplishments her family was the love of her life.
Gertie was preceded in death by her parents, and son, Louis Karacostas. She leaves behind to cherish her memories, her sister Lois Gamblin, brother Wayne Fade and wife Charlotte, granddaughter Gina Karacostas as well as nieces and nephews, Kathy Swanzy and husband Chris, Heather Gamblin, Bruce Gamblin, john Gamblin and wife Sharon, Nolan Fade, and Theresa Wellborn and husband Raymond, and numerous grandnieces and grandnephews.
In her honor a visitation will be held Monday, October 16, 2017 from 5:00pm – 7:00pm at Crowder Funeral Home Chapel in Dickinson, Texas with a funeral service Tuesday, October 17, 2017 at 10:00am, with Rev. Stephanie Hughes officiating.  Interment will follow at Galveston Memorial Park Cemetery in Hitchcock, Texas.
Family would like to send a special thanks to Kendal Jordan and Chaplain Mark Robinson with Traditions Hospice.