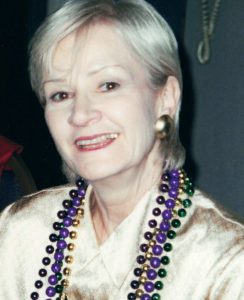 Geraldine Theresa Nix, of League City, passed away on Sunday, August 27, 2023 at her home at the age of 91. She was born on June 27, 1932 in Houston, Texas to Nicholas and Hilda Pursch.
Geri loved to dance and have a good time with her family and friends. She was an exceptional cook and loved to plan events on holidays and birthdays. She loved shopping, enjoyed boating and fishing, and playing cards and dominoes. She had a passion for wildlife, especially for the cardinals, doves, and squirrels that visited her feeders at home. She also loved the Monarch Butterflies and had a garden at home dedicated to preserve their habitat and well-being.
Geri was a kind and beautiful lady of grace. She was a member of the Bay Area Singles Club in Clear Lake where she met her companion Ron Scharman, and many other wonderful friends. She loved adventure and travel, but most of all, Geri loved her family and friends. Throughout her life she was a faithful servant of God and Jesus Christ, and her Patron Saint Jude.
She was preceded in death by her beloved husband of 43 years, William E. Nix; her parents, brother Victor, and sister Marilea Belville. She is survived by daughter Laura Nix, son Bill Nix; nieces Judy Burgess, Joni Becker and husband Melvin, Gerry Gisler and husband George; and nephew Joe Pursch and wife Nancy.
A Mass will be celebrated on Tuesday, September 5, 2023 at 10:00am at St Mary Catholic Church, 1612 East Walker, League City, Texas 77573 with Father John Rooney presiding. Entombment will follow at Mount Olivet Catholic Cemetery in Dickinson, Texas.
In lieu of flowers, please consider a donation to the Animal Charity of your choice, St Jude's Children's Research Hospital, 501 St. Jude Place, Memphis, TN 38105 https://www.stjude.org/donate/donate-to-st-jude.html?source_code=IIQ200767002 or M.D. Anderson Hospital, Lymphoma & Myeloma Center, PO Box 4464, Houston, Texas 77210-4464 https://www.mdanderson.org/patients-family/diagnosis-treatment/care-centers-clinics/lymphoma-myeloma-center.html.
Photo montage available at the link below: