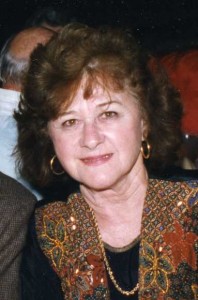 Geraldine P. Hopkins, beloved wife, mother and grandmother passed away into God's hands on March 7, 2015.  Geraldine was born in Houston, Texas, to Prescott L. and Leora DeJean on March 26, 1929.
Geraldine married Paul Hopkins, Sr. on October 2, 1950 and they shared 63 wonderful years together.  Geraldine is preceded in death by her husband, Paul Hopkins, Sr.; daughter Joan Frankovich; grandson Steven Kwek; and great granddaughter Kenzie Hopkins.
Geraldine is survived by son Paul Hopkins, Jr. and wife Cyndi; daughter Suzie Miller and husband Tony; son Jim Hopkins and wife Karen; daughter Patty Kwek; son-in-law Frank Frankovich; grandchildren Randi Hopkins Miller and husband Craig, Paul Hopkins III and wife Victoria; JR Decker and wife Becky, Josh Decker and wife Candace; Christopher Kwek; Haleigh Hopkins and fiancé Kenny Coggins, Dustin Hopkins and wife Gabrielle; Ann Frankovich, Sara Frankovich Hannie and husband Freddie; and great grandchildren Paul Hopkins IV, Aspen Miller, Brooklyn Hopkins and Kourtlyn Hopkins. She is also survived by her sister, Joan Strohmeyer, her brother Prescott L. DeJean and wife, Pat.
Behind the successful political and business career of her husband, Paul, was Geraldine: an unrelenting force and devoted, loving wife.  Known for her business acumen, Geraldine spearheaded numerous Texas entities with interest in oil and gas, lending, and real estate land development.  With her vision and tenacious energy, Geraldine is recognized as a successful business and community leader.
Geraldine was also active in her community serving on many boards; she was appointed as Galveston County Commissioner in 1986 to fulfill the remaining term of her husband, Paul, when he was appointed to the Texas Water Commission, making her the first and only woman to serve in this position. Together, Geraldine and Paul loved to dance, play card games and dominoes with friends and family for hours on end.
At the family's request donations can be made to the Brain Aneurysm Foundation or to a charity of your choice.
The family would like to thank the Friendswood Brookdale staff, AMED Hospice, Faith Community Hospice, Pat Mack, and the Crowder family, who have been family friends for many years.
A memorial visitation in Geraldine's honor will be held, Wednesday, March 11, 2015 12:00 pm to 1:00 pm, with memorial services at 1:00 pm, Crowder Funeral Home Chapel, Dickinson, Texas.