Gerald Jicotencalt Purvis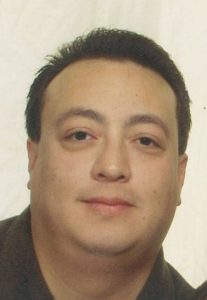 Gerald Jicotencalt Purvis joined Our Father in Heaven on November 1st 2016.
Gerald was 45 years old, and was born July 12, 1971, in Copperas Cove, Texas, to parents, Gary and San Juana Purvis. Son of a career Army veteran, Gerald spent his childhood in Texas, Mexico, Germany, and Kentucky. After graduation, Gerald proudly served with the U. S. Coast Guard. Gerald met Debra at age 24 and they fell instantly deeply in love. They were married seven months later.
With his associate's degree in Chemistry he began working at Akzo Nobel. As his family grew, and his son was born, Gerald returned to school and earned his Bachelor's degree from the University of Houston – Clear Lake, while working full-time and taking care of his family. Akzo Nobel became Albemarle and Gerald continued his career there for over twenty years. He was proud of the fact that he began at Akzo cleaning the glassware and equipment in the lab and left as a Master Scheduler. More recently he started a new chapter in his life by became a facility manager at the International Distributing Corporation, where he enjoyed using his talents for planning and problem solving.
Gerald was an avid lover of nature, he enjoyed travelling, camping, boating, kayaking, fishing, target shooting, and many other outdoor activities. His love for the outdoors carried over into his passion for photography where he captured many special moments. Gerald was very mechanically inclined and there wasn't anything that he couldn't learn if he put his mind to it.
He made his home with his family and pets in Seabrook near the water that he loved. Gerald was raised in the Catholic church and later joined the Methodist Church. Recently, Gerald experienced some life changing, spiritual moments with his group at BARC where he made some of the most meaningful friendships of his life.
Gerald leaves to cherish his memories, his parents, Gary and San Juana Purvis; his loving wife of 21 years, Debra Runyon Purvis; one son, Gabriel Jicotencalt Purvis; a sister, Maria Purvis Chavarria and husband Eduardo; one brother, John Wayne Purvis and wife Michelle ; a sister -in- law, Kristi Murray; and two brothers – in- law, Thomas Cassity and Jeffrey Cassity and their families. Gerald also leaves ten nieces and nephews, Alyssa Duron, James Purvis, Mark Purvis, Natalie Purvis, Elizabeth Cassity, Erin Cassity, Andrew Cassity, John Murray, Emma Murray, and Bryan Leslie; and one grandnephew, Jack Garland.
In his honor there will be a memorial Service held at Seabrook United Methodist Church on Saturday, November 5, 2016, at 3:00 pm.
In lieu of flowers, memorials may be sent to the St. Stephen's Society at Seabrook United Methodist Church or St. Jude's Hospital, 501 St. Jude Place, Memphis, TN 38105-1942, in Gerald's name .