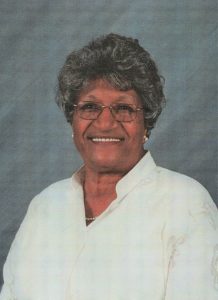 "Let your light so shine before men, that they may see your good works, and glorify your Father which is in heaven." Matthew 5:16
Georgia Mae Conner was born in Quitman, Mississippi, then moved with her family to New Orleans, Louisiana at the age of four. Upon completing high school in Advance Dressmaking, she majored in tailoring at Southern University in Baton Rouge, Louisiana. She became a charter member of Beta Alpha Chapter of Sigma Gamma Rho Sorority.
She moved to New York City in December 1957, and worked in Bridal Shops as a custom dressmaker and designer until 1991. Georgia was a member of Union Methodist Church for 17 years, where she served on the Administrative Board, Board of Trustees, President of the Methodist Women for two years, and was instrumental in organizing the board of ushers in 1977. Subsequently became first woman certified Lay Speaker at Union, where she assisted the minister and worked on various committees.
In the year of 1980, Georgia became a founding member of Jamaica Evangelical Church. Shortly thereafter she studied one year for the position of Elder under the pastorate of Dr. W. L. Eversley. She attended New York Theological Seminary for two years and completed courses in Christian Ministry. She was elected and ordained Pastor of Jamaica Evangelical Church in 1984.
Pastor Conner continued to be extremely active in her community, and served as Pastor for 15 years. She was always ready to assist when called upon, putting others before herself (Not slothful in business, fervent in spirit, serving the Lord. Romans 12:11) In 2001, she moved to Pearland, Texas and enjoyed retired life.
Georgia will be missed by many for her generous heart as well as culinary skills. She was known for making one mean pot of gumbo, cornbread, tea cakes and the best red beans and rice. She had a love of travel and staying in spirit through reading and prayer.
On August 8, 2017, the Lord called Georgia home. Preceding her in death are sons: Roy Conner, Jr. , Aaron Mouton, and Nathan Conner. Leaving to cherish her memory are her children: Dione Henderson, Bardell Conner, Marina Gayle Adams, and George Mathis Conner along with a host of grandchildren and great grandchildren.