George Washington Glover Jr.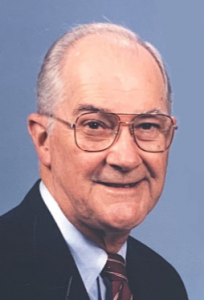 George Washington Glover, Jr., 95, went to be with our heavenly Father on Wednesday, May 20, 2020. He was born in Bogalusa LA on April 30, 1925, to George Washington Glover, Sr. and H'Eloise Aouille Glover. He grew up in Bogalusa, LA, with his sister Merlyn Glover Robinson and enjoyed fishing and hunting.
In 1943 he attended Louisiana State University before joining the United States Army, where he served in World War II as a Squad Leader and Staff Sgt. and was part of Company K, 322nd infantry in Japan. Upon his return in 1946, he met a red-headed young lady, Betty Jane Rogers, and on June 5, 1949, he married the love of his life, and they spent nearly 71 years together, a lifetime as a husband, wife, best friends, and confidants.
In 1950 George graduated from Southeastern Louisiana University in Hammond, LA. After graduation, he went to work as an Industrial Engineer with Ethyl Corporation in Baton Rouge, LA. He transferred to Houston, Texas, in 1952, where he retired after 40 years of service.
George was a faithful Catholic and an active member of St. Paul Apostle Catholic Church in Nassau Bay, Texas. He was a lifetime member of the Knights of Columbus, served as an usher for 50 years, was on the liturgy committee, and counted money once a month.
George was devoted to his family and friends and loved spending time with them. He genuinely had an interest and concern for everyone he met and a way of making them feel special.
He loved living by the water, boating, fishing, playing golf, and spending time with his daughters and grandsons. George was loved by all and will be greatly missed.
George is survived by his loving wife, Betty Jane Rogers Glover, and two daughters, Pam Nix, and Kim and husband Tom Vaughn, grandsons Adam Vaughn, Alec Vaughn, and Tyler Vaughn, sister-in-law Delores Shows, and many nieces and nephews. He is predeceased by his sister, Merlyn Glover Robinson and husband Richard Robinson, brother-in-law Donald Shows, and son-in-law Randy Nix.
A private family service will be held at St. Paul Apostle Catholic Church, Nassau Bay, Texas. A memorial service will be held and announced at a later date.
Interment followed at Mt. Olivet Catholic Cemetery I45, Dickinson, Texas. In lieu of flowers, please make a donation to your favorite charity or St. Paul Apostle Catholic Church Building Fund.