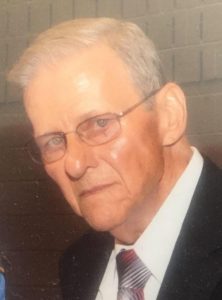 George Richard Neal, 75, a resident of Bacliff, he was born in Bryan, TX June 30, 1941. He went to be with the Lord on January 19, 2017 in Houston, TX. Mr. Neal attended Shrine of the True Cross Catholic Church. Mr. Neal is a retired Houston Police Officer. In 2012, Officer Neal was the recipient of the Blue Heart Award which is given to those that sustain life threatening injuries in the line of duty. He was an inspiring coach and teacher at South Houston High School, Dickinson High School and Bay Area Christian. Officer Neal was an outstanding teacher and coach that received Hall of Fame Honors from South Houston High School.
Officer Neal is preceded in death by his wife of 51 years Justine Gallerano Neal and parents, Joseph and Irene Neal.
He is survived by his daughters: Sissy Witte, husband Jerry and Tracey Klingler, husband Jimmy; sons: Rick Neal, wife Chrissy and Jeff Neal, wife Cindy; grandchildren: Bryce R. Neal, Reed D. Neal, Griffin E. Neal, Caitlyn Witte, Parker Witte, Corbin Witte, Hunter Witte, Braden Witte, Brooke Neal, Dawson Neal, Graham Neal, Courtney L. Klingler, Cory J. Klingler and Baylee A. Klingler.
There will be a visitation ​Thursday, January 26, 2017 from 6:30 to 8:00 pm​ with a Rosary to begin at ​7pm​ at Crowder Funeral Home 2422 Broadway Pearland, TX 77581.  Funeral service will be held on Friday, January 27, 2017 at 10am​ in the chapel of Crowder Funeral Home in Pearland with burial to follow at Mt. Olivet Cemetery.
In lieu of flowers, donations can be made in Officer Neal's name to: Houston 100 club 5555 San Felipe St #1750, Houston, TX 77056, www.the100club.org