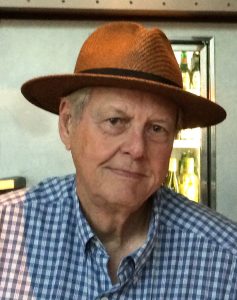 George Arnoldlee Biscamp, 87, passed away peacefully Nov. 17, 2022. George was born March 12, 1935 in Kirbyville, Texas to Ernest and Drucille Biscamp and was the oldest of six children.
George studied engineering at the University of Texas in Austin. He went on to establish a career building pre-engineered steel buildings. For over 50 years George built all types of end-use buildings in Galveston, Harris and the surrounding counties. Among the many types of buildings he built include retail spaces, offices, manufacturing facilities, churches, American Legion Halls (Posts), restaurants, airplane hangars, strip centers and others.
George and his wife and business partner Therese enjoyed a successful building career in part thanks to the wonderful repeat clients and loyal, reliable, trustworthy subcontractors; many who then became lifelong friends.
Rearranging the real estate land with bulldozers, lining-up the roadways with concrete trucks churning in the dead of night, watching the steel being erected in mid-air, and installing cranes in high buildings; all of these things brought great joy to George. However, nothing brought him more joy than the completed end project along with a smile on the owner's face and a firm handshake of appreciation.
George loved surprises and practical jokes. He derived great pleasure from sharing meals, holidays, and special events with family and friends. He looked forward to travel and new adventures.
George is survived by his wife of 46 years, Therese, his daughter Rene Cooper and husband Donald, step-daughter Lara Anne, Granddaughter Sarah Allen and husband Austin, Grandson Tyler Cooper and wife Bré, five great-grandchildren, sister Cordell Moran, sister Wannell Lafferty and husband Jim, and brother Byrum Biscamp.
He is preceded in death by his parents, Ernest and Drucille Biscamp, his brother, Edwin (Butch) Biscamp, and his sister Arlene Burchfield.
There will be a celebration of life for George Held 11:00 AM, Saturday, December 3, 2022, at Crowder Funeral Home Chapel, Dickinson, TX.