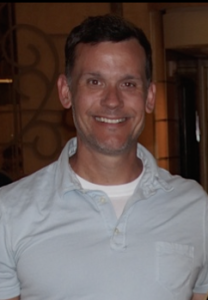 Gentry Forrest McColm of Pearland Texas, a beloved father, to Bryce and Rhys McColm, and dearest friend to countless others, went home to be with the Lord on February 6, 2022.   Gentry was born on September 15, 1970 in Norwalk, California, but he moved to Greenville, South Carolina when he was 12. Gentry spent one year at the Citadel but after a terrible car accident, transferred to Wofford College earning a degree in Philosophy,  He received a Masters of Divinity from Greenville Theological Seminary and later earned a doctorate from Westminster Theological Seminary.  Gentry first served as an associate pastor of Devenger Road Presbyterian church in South Carolina for four years. In 1999, Gentry and his wife Rebecca, moved to the great state of Texas. The two started a family, and Gentry served as head pastor of Hope Presbyterian Church in Pearland. Despite the busyness of raising a young family and pastoring a church, Gentry managed to find time to author a book, The Inner Life of the Church Planter.  And then after 15 years at Hope Church, Gentry embarked on a new career with Chick Fil A.. Gentry began working in one store and quickly grew to overseeing three CFA stores in Pearland. His most recent promotion was to Senior Director of Operations at CFA in Pearland. His ability to grow the restaurant was significant, but his love and dedication for his coworkers and the guests at CFA, is immeasurable!  Gentry was an avid reader, car aficionado, deep thinker, a man of great faith, foodie, fantastic father and loyal friend.
He is survived by his father, Robert Dale McColm, wife Eva; Rebecca Anne McColm and their children, Jonathan Bryce McColm and Rhys Samuel McColm; and sister, Kristina Noelle McColm. His oldest son, Bryce, is a sophomore at Texas A&M Galveston and Rhys is in the seventh grade.
His passing is felt deeply by many. And while it's true he battled cancer, cancer did not defeat Gentry.  "So we do not lose heart. Though our outer self is wasting away, our inner self is being renewed day by day. For this light momentary affliction is preparing for us an eternal weight of glory beyond all comparison, as we look not to the things that are seen but to the things that are unseen.  For the things that are seen are transient, but he things that are unseen are eternal."  2 Corinthians 4:16-18
Our hearts are heavy with grief, but our hope is steadfast, Gentry Forrest McColm is home and healed in the arms of his precious Savior, Jesus Christ our Lord.
In lieu of flowers, please consider a donation to curenav.com or gastriccancerresearch.org.