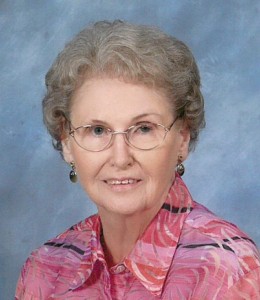 Geneva Browning Baron, 89, passed away Sunday, August 23, 2015, in Hallettsville, Texas. Geneva was born June 27, 1926, in Gainesville, Texas to Cage and Cornelius Wilson. She was a resident of Texas City for over 48 years and longtime member of Northside Baptist Church. She worked for 23 years at Mainland Medical Center as a PBX operator. She was a loving mother and grandmother, and she will be missed dearly.
Geneva is preceded in death by her parents, her husbands: Raymond Browning and Alfred Baron, daughter Wanda Browning, her son-in-law Lloyd Wright, and her brothers and sisters. Geneva is survived by daughter Judy Wright; son Kenneth Browning and wife Carolyn; three grandchildren; Mark Wright and wife Kelly, Jason Browning and wife Erin, and Greg Browning; four great grandchildren; Presley Wright, Wade Wright, Kate Browning and Eric Browning.
A visitation will be held from 1:00pm to 2:00pm, Saturday, August 29, 2015, at the James Crowder Funeral Home in La Marque. Funeral Service will be at 2:00pm Saturday, August 29, 2015 at the James Crowder Funeral Home. Burial will follow at Galveston Memorial Park in Hitchcock, Texas.
In lieu of flowers donation may be made to the Alzheimer's Association or Northside Baptist Church.