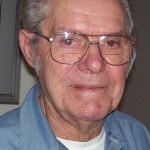 Gene Levell Schmidt, 84, resident of Dickinson, Texas, passed away April 12, 2014 in League City, Texas. He was born March 8, 1930 in Pleak, Texas to parents Hugo J. Schmidt and Iva E. Schmidt. He retired after twenty four years from Amoco Refinery. He enjoyed fishing at Galveston Bay, sports, and carpentry work.
He was preceded in death by his parents, Hugo Schmidt and Iva Schmidt Lawhorn, and aunt, Cornelius Lee.
He is survived by his loving wife, Katherine J. Schmidt; daughter, Debra Collins; sister, Earlene Butler; granddaughter, Monica Winebrenner; great-grandchildren, Alexzandria Davis and Paul Winebrenner IV; niece, Andrea Johnson; nephew, Brian Butler; cousin, Blaney Lee; step-children and their families, John Edge, Joe Edge, Rick Hurley, Donna Terracina, and Brenda Cogar.
Visitation will be held from 6 p.m.-8 p.m. Monday, April 14, 2014 at Crowder Funeral Home in Dickinson, Texas.
Graveside service will be held at 10:00 a.m. Tuesday, April 15, 2014 at Confederate Cemetery in Alvin, Texas.