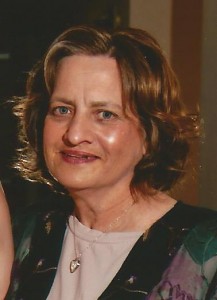 Gail Hope Chisman, 59, of Friendswood passed away on Friday, March 13, 2015 peacefully surrounded by her family. She was born on April 13, 1955 in Lackawanna, New York and spent the last thirty five years in the Houston area.
She is preceded in death by her parents Matthew and Carol, and sister Nancy.
Gail is survived by her loving husband Glenn Chisman of Friendswood TX, sister Marilyn Fiorilli of Lancaster NY, daughter Virginia Erin Torres of League City TX, son-in-law Stevan Torres of League City TX, and granddaughter Avery Gail Torres along with two nieces and three nephews.
Gail taught special education for a number of years and always had a special place in her heart for the education of children. She was a loving wife, mother and gammie. She was a devoted member of her church and a true woman of faith.
We love you dearly and know that you are in a place of eternal peace and that you will always be our guardian angel.
Visitation will be held at 9 am on Thursday, March 19, 2015 at House of Prayer Lutheran Church located at 14045 Space Center Blvd, Houston TX 77062, with a memorial service following at 11 am. The family or Crowder Funeral Home in League City TX may be contacted in regards to burial details.
The family would like to express their appreciation to the staff at Clear Lake Regional Hospital and the Methodist Hospital of Houston for all the wonderful care Gail received.