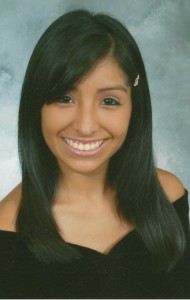 Gabriela Navarro, 23, passed away on May 27th, 2015 in College Station, TX. She was born on May 31st, 1991 in Winchester, Massachusetts to Javier and Martha Navarro. Gaby is survived by: her parents, Javier and Martha; brothers, Tony and Victor; and numerous family members and friends.
During her time in high school she enjoyed playing tennis, volleyball and viola. She earned her Veterinary Technician License and worked as a Technician for Texas A&M Veterinary Diagnostic Lab.  She had a passion for rescuing and adopting animals.  She aspired to be a veterinarian. She always had a craving for adventure and travel especially to visit family in Peru. Her electrifying smile would light up a room. She will be dearly missed.
Visitation will be held on Saturday, May 30, 2015 from 6:00 pm to 8:00 pm at Crowder Funeral Home, Webster, Texas. Funeral Services will be held on Monday, June 1, 2015 at 2:00 pm at Crowder Funeral Home – Webster, Texas.