FREDERICK WALTER BOUDREAU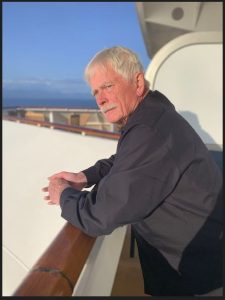 Frederick Walter Boudreau of Seabrook, Texas was born October 2, 1947, in Winterport, Maine. He passed away peacefully on July 28, 2023, in Houston, Texas at the age of 75 with family and friends by his side.
He was a man of great character, Fred was best known for his easy-going nature, rapid-fire wit, integrity, and devotion to his family. He was a great family man who supported us, taught us, believed in us and loved us. He will be missed by many and forgotten by very few. He was predeceased in death by his parents Edmund Herbert Boudreau and Joan Mate Busho Boudreau. He is survived by his beloved wife of 39 years Elizabeth Epple Boudreau of Seabrook, Texas; daughter Julia Boudreau of Houston, Texas; son Michael Benitz, daughter-in-law Angie and grandchildren Brayden and Brooklyn Benitz of Kemah, Texas. He is also survived by his brothers and sisters Perry Boudreau, Justin Boudreau, Jane Boudreau, Jill Grant and their families all of Bangor, Maine.
Fred grew up in Bangor Maine and he graduated from Bangor High School in 1966. He attended Midwestern State in Wichita Falls, Texas and graduated with degrees in History and English. He attained his MBA from Webster University in St. Louis in 1984. He worked for General Foods/Kraft Foods for 24 years in various sales, sales management and marketing positions until his retirement in 1999 when he was forced to retire due to his battle with Multiple Sclerosis. During his tenure with General Foods/Kraft Foods, which he started out as sales representative in Odessa, Texas, he was transferred to Dallas, Texas, Des Moines, Iowa, St. Louis, Missouri and finally Houston, Texas. Fred had a lifelong passion for fishing which began in Maine.
The quote" the measure of a man is not how he died but how lived" definitely personified the life of Frederick Walter Boudreau. Our family will always know that we were blessed to have Fred in our lives and he was truly a gift from God – and remember there are always fish waiting to be caught.
There will be a Celebration of Life on August 19, 2023, at 11:00 AM at Lakewood Yacht Club 2322 Lakewood Yacht Club Drive, Seabrook, Texas, 77586.