Fred was a modern renaissance man. His knowledge and interest spanned from Vivaldi to The Velvet Underground, Thoreau to Twain, Finnish lakes to Lake Granada and Beluga caviar to dad's hog head cheese. He appreciated life in all settings.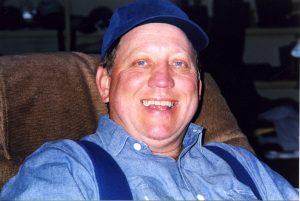 Frederick Edmund Davis began his journey home on Tuesday August 17, 2021 at 18:08 at Houston's MD Anderson Hospital. He was the only child of Captain Frederick Edmund Davis and Mildred Dwelle. As a child he travelled the high seas with his father and as an adult continued to see the world. His favorite destinations were his lake lot in Liberty County next to his father and mother-in-law and Millen Georgia where his aunts, uncles and cousins resided. When his parents passed they were his mother, father, brothers and sisters. He loved his family beyond compare. He especially loved his handsome blonde, blue eyed baby boy that strikingly resembled him.
 Fred married Brenda Hart Rouse on December 30, 2000 in Millen at Scarboro Baptist Church with the town in attendance. They combined their families consisting of three adult sons Frederick Davis Jr., Shawn Clift and Cary Rouse and they became brothers.
Fred and Brenda built their home in Dickinson on his beautiful property after living in Fred's one room cabin for seven years. When Brenda complained he would remark "it's free" to her aggravation. However, they were blessed with granddaughter Morgan Clift in 2003, Christopher Clift in 2004 and Kelsey Rouse in 2007 and Brenda won the battle to build a new home. In 2010 Audrey Rouse was born and Fred loved nothing more than to have the new home he now loved filled with children.
Fred was just a kid at heart his house had always been filled with neighborhood kids, friend's kids, church kids and they frequently returned to visit as adults. He loved to mentor in gun safety, gun buying and maintenance. He taught them to tie fishing lines, cast, ski, and sail.
Fred grew up in League City, Texas, attended Clear Creek schools and Sam Houston State University. He recently retired in January from ILA 1351 after 45 years. He was loved by his childhood friends and had many close friends at work.
Fred was preceded in death by his parents, mother-in-law Lillian Spradley, his beloved aunts and uncles and his second cousin Lillian Reeves. Fred is survived by his wife Brenda Davis, son Frederick Davis, stepsons Shawn Clift, Cary Rouse and daughter in laws Jessica Holcomb, Lana Rouse and Teresa Taylor, and father and mother-in-law Robert and Barbara Spradley. He leaves behind his beloved grandchildren Morgan Clift, Christopher Clift, Kelsey Rouse, and Audrey Rouse. His Georgia family, King and Beth Rocker, Matthew and Amy Rocker, Kathryn and Taylor Sturkie, Mike and Terri Reeves, Kate Reeves, Mary Margret and Tom Tuggle, Hannah and Dent Derriso, Hoke and Lynn Reeves, Smith Reeves, Jean Cowart, Sandra and Norman Skelton, Rosalie and Jenny Dwelle; nieces and nephews Shannon, Tammy, Jonathan, Lily, Isabella Holmes; cousins Bob Dwelle, and Claire Henwood and husband Scott; and numerous extended family members.
Visitation will be held at Crowder Funeral Home in Dickinson on Saturday, August 21st from 4:00-7:00 PM. Family gravesite services will be held on Sunday August 22nd. In lieu of flowers please donate in honor of Fred to The Salvation Army or The Galveston Bay Foundation. A celebration of life will be held In October at Scarboro Baptist Church in Millen Georgia.