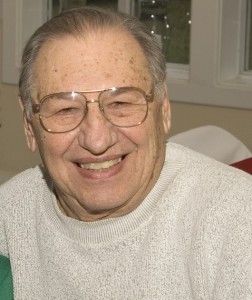 Frank Tragni passed away peacefully of cancer on March 17, 2016,
Frank Tragni was born on February 22, 1927, on Long Island, New York, to Frank Tragni and Mary Mattson Tragni. He married Eileen Hickey, the love of his life, on February 14, 1951, and traveled the world with her. He was well known for his strong work ethic and his devotion to family and friends. He was also very active in his church and community.
Frank Tragni grew up on a farm on Long Island and joined the United States Maritime Service in 1944. In 1946 he was drafted and assigned to the Army Air Corps, later the U.S. Air Force. He served as an electronics technician and later an electronics intelligence analyst until his discharge in 1964. He continued working for the Air Force as a civil servant until 1968 when he moved to Houston to work for Lockheed and later Computer Sciences Corporation, both in support of the Johnson Space Center, until his retirement in 1992. Frank received awards for his work on the Apollo and Skylab projects among others.
Frank Tragni was preceded in death by his parents. Left to cherish his memory are his wife of 65 years, Eileen; sister Regina Vecchio (Ben); children, Frank Tragni (Jula), Eileen Christine Sprague, Dan Tragni (Laurie), Martin Tragni, and Ande Bloom (Tom); grandchildren William Tragni, Charlotte (Charli) Tragni, April Royall (Eric), Heather Matter, Ryan Sprague (Jessica), Jack Tragni, Lauren Tragni, Amanda Tragni, Robert Tragni, Zachary Tragni, Paul Bloom, and Melica Bloom; great-grandchildren Connor Huffines, Hudson Royall, and Hera Royall, as well as nieces, nephews, extended family and friends.
A memorial service to celebrate his life will be held on March 22, 2016, at 10:30 am at St. Clare of Assisi Catholic Church, 3131 El Dorado Blvd., Houston, TX 77059. Luncheon immediately following in the parish hall.
The family requests that in lieu of flowers a donation in the name of Frank Tragni be made to Christians In Action at St. Clare of Assisi Catholic Church.