Frank Joseph Anthony Pizzitola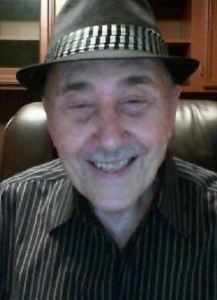 Frank Joseph Anthony Pizzitola of Houston Texas, beloved husband, father, grandfather, great grandfather, brother, cousin, uncle and friend went home to the arms of Jesus on the 26th of December 2015 with his family by his side.
Frank was born in Houston Texas on August 31st 1927 to Joseph and Theresa Pizzitola. Joseph came to America from Sicily where he served as a corporal in the Italian Cavalry. He came through New York to Houston where he met and married Theresa Arfele and they had two children, Frank and Josephine Marie. Frank was very proud of his father for coming to a new county without knowing the English language and making a living for his family. Joseph impressed upon Frank the importance of education and after graduating from Lamar High School, Frank attended the University of Houston obtaining his Mechanical Engineering degree in 1950 and then graduated with a law degree from South Texas School of Law in 1967. He also proudly served in the United States Army.
He worked for Anderson Greenwood for over 40 years where he was given credit for the achievement of the ISO 9001 certification of Quality Assurance in 1992 as Director of Quality, which was a major accomplishment. The ISO 9001 was among the most stringent and important of standards for engineering design and manufacturing at the time.
He was President of the Houston Chapter of UNICO National, an Italian American Service Organization and was noted in the society section of the newspaper many times. He was an avid golfer and wonderful dancer and also made the news as an octogenarian attending dance classes in Pearland.
He communicated with family in Sicily for years and finally went to visit his beloved family homeland where he met cousins and nieces and nephews which was a very important experience for him.
He was blessed to have his dance partner Dee Jackson and wonderful loving neighbors Joe and Amber Calderon whom he loved like family in his life.
He was loved and admired by all who knew him and he will be greatly missed.
With a twinkle in his eye and a spirited step, he is now dancing in Heaven.
He is preceded in death by his mother Theresa Arfele Pizzitola, father Joseph Pizzitola, wife Mona Pizzitola and son Perry Pizzitola.   He is survived by his loving daughter Lita Pizzitola Berry, son in law Brad Berry, sister Josephine Marie Mayfield, brother in law Robert Mayfield, grandchildren Rachael Pizzitola, Ann Goad, Amanda Pridgen and husband Phil Pridgen and Alex Berry, great grandchildren Mona Goad and Kingsten Huanca, step daughter Mona Lisa Goad, daughter in law Tammy Pizzitola, nieces Tina Carroll and Teresa Zubia, and nephew Frank Mayfield.
A visitation will held Tuesday, December 29, 2015 from 5 to 8 pm with a rosary to begin at 7pm, at Crowder Funeral Home in Pearland. Funeral service will be held on Wednesday, December 30, 2015 at St. Helens Catholic Church at 11am. There will be a graveside service on Saturday, January 2, 2015 at 9am at Houston National Cemetery.
In lieu of flowers please donate to: https://www.catholiccharities.org/donateonline