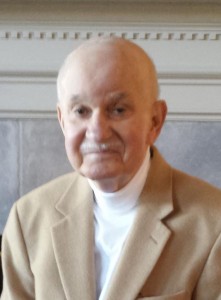 Frank Way died peacefully at his home in Kemah on November 27 surrounded by loving family. A memorial service will take place on Sunday, November 29 at Crowder's Funeral Home, League City at 4:30 p.m. with visitation at 3:30 p.m., followed by interment at Waco Memorial Park on November 30 at 1:00pm.
Frank was born in San Antonio on June 9, 1932, to Frank and Genevieve Way. His younger brother Charles Way followed in 1936. His father, an American businessman, moved his family to Brazil where they lived in Recife and Rio for several years. When he was ready for high school, his parents sent him to live with relatives in San Antonio where he graduated from St. Gerard Catholic High School. Following graduation, he enrolled in Texas A&M where he was a member of the Corps, earning a Bachelor of Science in Electrical Engineering.
He enlisted in the U. S. Army where he served as First Lieutenant from June 2, 1955 to June 1, 1957. He married Eloise Schneider and they became the parents of three sons – Kevin, Kyle, and Dan. Frank and his family enjoyed sailing, hiking and skiing during this time. Eloise passed away in 1989 and he later married Susie Swearingen Way.
Frank went to work as an electrical engineer at Gulf Oil in Port Arthur, Texas. He then transferred to Gulf Mineral Resources in Denver, Colorado. He retired after 32 years of dedicated service to Gulf/Chevron.
After he retired from a distinguished career in electrical engineering, Frank and his wife Susie were actively engaged in their lifelong dreams – sailing, cruising including an extended around-the-world venture, competing in bridge tournaments, and dancing. Their home was always open to friends, neighbors, and relatives where their warm hospitality included a martini hour which he hosted with ceremonial attention to detail and eloquent toasts.
He was an avid lover of sports, especially his beloved Texas Aggies.
He was known for his gentility, competitive spirit, and general love of life. The loves of his life included his wife, children, and 15 grandchildren. He was often seen at high school football games, dance recitals, graduations, and weddings, cheering on his beloved family members.
He was dedicated to his church and led by its beliefs and tenets. Until his illness, he lived life to the fullest and was an inspiration to many and loved by all. It is with sadness that goodbyes must be said, but comfort comes in knowing that he lived his 83 years with fullness and satisfaction. When glasses are lifted, Frank Way will be remembered, and a smile will replace the tears.
Frank was predeceased by his parents, his wife Eloise, his brother Charles Way and his son Kevin Way. He is survived by his wife Susie and children Kyle Way and his wife Amy, Dan Way, John Swearingen and his wife Stacy, Jane Swearingen Leger and her husband John, Jill Swearingen Pierce and her husband Larry, Dot Way and Julie Camara.
He is also survived by his grandchildren Jennifer Champagne and her husband Dewayne, Joshua Way and Maria Rios, Dylan Way, Taylor Way, Adrienne Way, Colin Way, Scott Way, Jessica Way, Trevor Way, Jacob Swearingen, Joshua Swearingen, Connor Brown, Claire Brown, Ryan Leger and Thomas Chatelain.
He is also survived by sister-in-law Joanie Way and her family, sister-in-law Ann Williamson Karaffa and her family.
The family would like to thank all the caregivers as well as family, friends, and neighbors who gave tirelessly of themselves to bring aid, comfort and love during the past few months. It was a beautiful dance.
Honored to serve as pallbearers will be Joshua Way, Dewayne Champagne, Dylan Way, Colin Way, Connor Brown, Ryan Leger, Jacob Swearingen, Joshua Swearingen, Thomas Chatelain with honorary pallbearers Scott Way and Trevor Way.