Frances Welsh Hellinghausen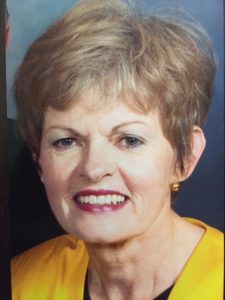 On December 23, 2018, Frances Hellinghausen, loving wife and mother, went to be with the Lord. She was born to John Robert and Marcella Welsh February 23, 1937 in Harvey Illinois. She graduated from St. Vincent's High School in Shreveport La. where she met the love of her life, Paul Hellinghausen. She went on to attend St. Mary's Dominican College in New Orleans La. and Spring Hill College in Mobile Al. Frances and Paul were married June 10, 1957 in Shreveport, La., where they lived for many years before moving to Plano, TX, retiring to Horseshoe Bay, TX and Fredericksburg, TX. She is survived by her husband Paul; son Bill and his wife Mary Ann; son Doug and his wife Holly; son Paul and his wife Laurie; and daughter Dawn and her husband Mike. She also is survived by her grandchildren Leigh, Austen, Garrett, Laura, Valerie, Amanda, Mitchell and Kristina; great-grandchildren Wyatt, William and Gavin; her sisters Patricia, Shirley, Kathleen and brother Charles. She was preceded in death by her son Greg, sister Sr. Marietta Welsh MSC and brother Fr. John Robert Welsh S.J.
Frances loved life being a mom, homemaker, volunteering in her church and community, and playing tennis with good friends. She was a role model with her love for God and commitment to family and friends. She was treasured by her beloved husband, children, grandchildren, great grandchildren and many nieces and nephews. Her creativity, patient nature and playful sense of humor will be missed but always remembered.
To celebrate her life, a funeral Mass will be held Friday, February, 1 at 10:30 AM at St. Clare of Assisi Catholic Church, 3131 El Dorado, Houston. Donations may be made to the Alzheimer's Association at alz.org.