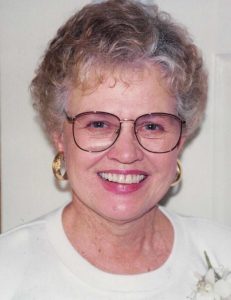 Frances LaVaughn Luker was born on Galveston Island on April 30, 1927. She passed away peacefully on November 8, 2022 at the age of 95. She was known by several names by her friends, family and acquaintances. She was Bones to many of her long-time friends and relatives based on her maiden name Bohne, as LaVaughn by her husband John and other people she met later in life, as Frances by people who didn't know her as well, and as Mimi by her many grandchildren and great-grandchildren. She was a graduate of Ball High School in Galveston. As a young woman she was runner-up Miss Galveston and was Galveston's Miss Splash Day. She was married on May 2, 1949 to Michael J. Demetrios Jr, and raised five children with him, Rhonda, Michelle (Shelly), Michael, Chris Ann and Randy, until her husband's untimely death in 1972. They lived in Hitchcock until 1965 when they moved to Nassau Bay.
She remarried in 1979 with John T. Luker Jr, and spent 42 happy years with him until he passed away in 2021. They lived in Nassau Bay until she and John moved into assisted living at the Delaney at South Shore in League City in 2019. She was a loving step-mother also to John's four daughters. She had a total of 27 grandchildren and step-grandchildren and numerous great-grandchildren, all of whom adored her. She often said that she had been lucky enough that each one of her two husbands was a wonderful man.
She and John enjoyed traveling by RV and traveled all over the United States with many of their friends. She enjoyed being a volunteer at the Nearly New Shop in Nassau Bay. She was an enthusiastic Houston sports fan, and she watched the Houston Astros on television every game they played. She was an active member of St. Thomas the Apostle Episcopal Church in Nassau Bay. She will be greatly missed by Pastor Mike Stone and the entire congregation.
She is survived by her children: Rhonda DeWeese and husband Charles DeWeese of Canton CT, Michael Demetrios and wife Susan of League City TX, Chris McBride of Clear Lake, TX and Gary Randall (Randy) Demetrios, and also by Peggy Ross of Hitchcock TX and Bow Hubbell, the daughters of her best friend, the late Annie Ross, and also like daughters to her. She is also survived by her four step-daughters, Linda Berry, Cynthia Knox, Tamara Rogers and Terry Hampton. She was preceded in death by her parents, William J. and Josephine (Crawford) Bohne of Galveston TX, by her two husbands, and by her daughter Shelly, who passed away in 2016.
The Family will receive friends on Tuesday, November 15, 2022 from 5-7:00pm at Crowder Funeral Home, 1645 East Main, League City, Texas 77573. A service will follow at St. Thomas the Apostle Episcopal Church, 18300 Upper Bay Rd, Houston, TX 77058 at 11am on Wednesday November 16, casual dress preferred. She will be buried after the service at the Galveston Memorial Park in Hitchcock TX. If you would like to make a donation in her honor, please consider St. Thomas the Apostle, or a charity of your choice.