Frances A. "Fran" Herrera Valenzuela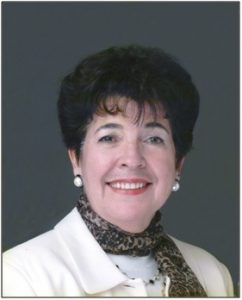 Frances A. "Fran" Herrera Valenzuela, a life-long educator and community leader, died June 12, 2017 after a brave fight with cancer.  Her good health and strength leading up to the diagnosis helped her to face the disease and remain herself, being fully present with her family and friends until her last hours with us.
A fourth-generation Texan, she was born in 1937 in Alice, Texas. Her late parents, Alfredo and Julia Contreras Herrera, taught her the values of family, faith, a strong work ethic, community involvement, and the importance of helping others to gain access to education and opportunities.
Fran was one of the first Hispanic women drum majorettes in her high school band, and during her life time she was among the first Hispanic women to receive leadership positions and honors as a primary school educator, a Texas State Teachers Association (TSTA) Board member, and later a National Education Association (NEA) Professional Development Trainer and Retired Teachers Board member.
At age 17 Fran was a freshman at Texas A & I University in Kingsville, Texas and by age 20, she graduated and began teaching. While there, she met a young naval officer candidate, Raul Valenzuela.  They married in 1959 and moved from Texas during his pilot training Fran and Raul were the first in their families to venture far from home.  Little did they know their lives would someday include living abroad for a few years,
During their 38-year marriage, Raul and Fran lived in Texas, Florida, New Mexico, Missouri, New York, Venezuela, Brazil, and Michigan, and then returned to Texas. Until Raul's passing in 1997, they both enjoyed traveling, learning languages and experiencing different cultures.  Fran shared that by 2017 she had visited 77 countries.
Their children, Carla, Cristina, and Jair, grew up listening to music and the conversations of their parents' friends, learning three languages, and being introduced to new foods and cultures at early ages.
Fran enjoyed many hobbies including travel, sports, music, dancing, and spending time with family and friends. Beginning at a young age and throughout her lifetime Fran volunteered in the community and participated in civic affairs. In keeping with her love of cultural heritage, Fran also studied genealogy for several years, which drew her to genealogy research centers in Texas and in Spain.
Fran's Catholic faith inspired her to make numerous trips to churches and missions in Texas, New Mexico, California, Florida, Spain, Portugal, and Italy, including several visits to the Vatican.
Survivors include her sister, Viola Garcia, her three children, two grandchildren, their spouses, and many nieces, nephews, and family members.  Fran has treasured friends and esteemed colleagues in Texas, and across the U.S., in Europe and in South America.  Fran nurtured many dear friendships from childhood to present day, always making new friends along the way.
A memorial service will be held on July 8, 2017 at St. Bernadette Catholic Church, 15500 El Camino Real, Houston, Texas, at 11:00 a.m., with a Rosary beginning at 10:30 a.m.
In lieu of flowers, the family suggests contributions to your favorite charities.