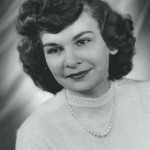 Frances Dorothy Olin, 93, resident of Houston, Texas, passed away May 4, 2014. She was born January 29, 1921 in Reading, Pennsylvania to parents Joseph E. Nowack and Helen J. Nowack.
She was preceded in death by her husband Dr. Walter George Olin in 1980, her parents, and sister, Peggy Messerli.
She is survived by her daughter, Sheryl O. Hughes; son, Ronald G. Olin and wife Sandra; and three grandchildren Ashleigh M. Francis, Heather M. Francis, and Jeni Olin.
A graveside service will be held at 2:00 p.m. Wednesday, May 7, 2014 at Forest Park Lawndale Cemetery in Houston, Texas.