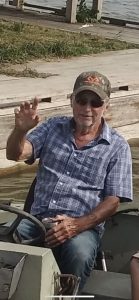 Floyd Albert Laskoskie (78) of La Marque, Texas, passed away on Tuesday, September 20, 2022. He was born on November 12, 1943 in Sealy, Texas to Mary Katy and Albert Louis Laskoskie. Floyd lived most of his life in La Marque and worked for over 30 years, until retirement, at Sears. Floyd was a wonderful husband to his wife Elaine, with whom they spent most of their lives together finding each other in school and staying together for 58 years after.
He is preceded in death by his mother and father, daughter; Lori Boatright, son; David Laskoskie, and sister; Billie Jean Wornick. Floyd is survived by his loving wife of 58 years, Joyce Elaine Laskoskie, sister; Catherine Craig, two brothers; John Laskoskie and wife Martha, and Gary Laskoskie and wife Alicia, daughter in-law; Brenda Laskoskie, six grandchildren; Jessica Boatright, Jared Boatright, Jacob Laskoskie, Gray Laskoskie, Braden Doherty, and Janelle Bowen, and three great grandchildren; Alexis Boatright, Jayden Hastings and Darla Boatright.
Floyd loved to fish, hunt, and having his garden. He took hunting trips as often as he could and enjoyed the outdoors. He enjoyed spending time with his children, grandkids and great grandkids. He spent most of his time working in his shop or in the yard. He would drop anything to go help anyone in need. He will be greatly missed by family and many friends.
A visitation will be held on Monday, September 26, 2022 from 10:00am to 11:00am at the James Crowder Funeral Home in La Marque. A funeral service will begin at 11:00am with Deacon John Carillo officiating; interment to follow at Galveston Memorial Park in Hitchcock.
Pallbearers will be Jared Boatright, Gray Laskoskie, Ray Perry, Jerry Boatright, Jayden Hastings and Richard Root.