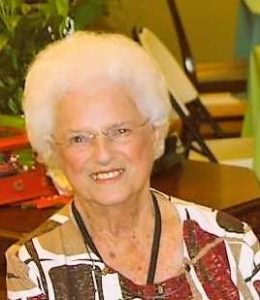 Florence E. Pruitt,  "Great Po", the ever-witty family matriarch who couldn't refuse a happy hour, died Monday, April 11, 2022.  She died peacefully at home with her two loving daughters at her side.  Florence was 96.
Florence's family had deep roots in Galveston, Texas, even extending before the 1900 Storm. She was born December 29, 1925 to Seth and Mary Teutenberg. The duration of her life was a witness to some of America's most noteworthy events: The Great Depression, World War II, the death of Kennedy and much more.
Florence met her "Best Friend", Lorraine Werner, at an early age in school in Galveston.  For 90+ years, they shared a remarkable lifetime of memories of families, friendship, love and life.
But her crowning achievement occurred on April 9, 1948, when she married a genuine "Mr. Fix-It" and tactical domino player named Marsh Pruitt. Wed at the Trinity Church in Galveston, Texas, they spent more than six decades in a love and friendship that cannot be equaled.
Florence spent her adult years establishing a reputation for being the life of family get-togethers. She set the bar for spoiling her grandchildren and great-grandchildren over the holidays: Her oven never had an occupancy limit for cookies. It's also suspected that her never-ending energy – and potentially her fruitful lifespan — originated from her infinite consumption of Coca-Cola.
While she adored her husband "Pruitt", her extended family was also well-aware of her affection for movie star Ryan Gosling – and Baxter, the wiener dog. Florence never shied away from asking details about everyone else's early relationships, either. If a grandchild received his or her first kiss, only God and Florence were somehow aware of it.
If you wanted to get on her bad side, you'd simply threaten to pay for dinner. Florence always insisted on footing the bill wherever she went. She could quick-draw a credit card faster than Doc Holliday against Johnny Ringo.
Like the many hurricanes she rode out on the Texas coast, Florence was a force to be reckoned with. She was connoisseur of Gin, a master Christmas tree decorator and a doppelganger of Barbara Bush. But most importantly, she set the example for how a family should love one another. This is her legacy – and her eternal gift to those she left behind.
Florence leaves behind her two daughters, Jackie Cornish (Richard) and Mickie Farrell (Mike); 4 grandchildren, 11 great grandchildren, and scores of extended family and adoring friends.