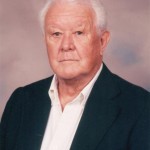 Fernando Louis Frank passed away on Monday November 10, 2014. He was born in New Orleans, Louisiana on October 11, 1927. He was the son of William Frank and Ellen Raymond Frank.
Fernando joined the U.S. Navy and served in World War II as well as the Korean conflict. He attended Tulane University. On June 28, 1958 he was wed in marriage to Katherine Phillips.
Together they raised three children Philip, Suzanne, (husband West Doucet), and Stephen. Philip's daughter Holly Michelle Frank is their only grandchild. Fernando was employed as a Piping Designer. Later in his career he helped manage construction of the George R. Brown Convention Center, the Wortham Center, the expansion of the Anhuser-Busch Brewery, and the South Shore Harbour Convention Center.
Fernando was also a community leader. He served several terms as the President of Baton Rouge YMCA AAU swim team. His efforts were instrumental in securing the funds and construction of a new team practice and swimming pool. He was Grand Knight of Council 6234 of the Knights of Columbus. He will be missed by family and friends and will always be in our hearts.
There will be a memorial service Thursday November 13, 2014 at St. Bernadette's Catholic Church in Clear Lake, 10:00 a.m. Please join us in honoring our father.