Felicia (Phil) Jeanette King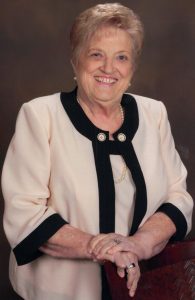 Felicia (Phil) Jeanette King, 88 years old, residing in League City, passed away on November 21, 2022.
Felicia was born on August 29, 1934, in Weldon, Texas, to Robert and Opal Goodrum.
Since her dad was a Texas State Trooper, they moved around the state often and she grew up in several towns in east and south Texas.  This might have fostered her love for the state of Texas and its history.  She ended up teaching Texas and American History, as well as coaching middle school girls for 29 years. Because of this, we believe there's a special place in Heaven for her!
Survivors include; her sister, Marietta Koester;  her children, Jan King (Robin), Roger King (Kathy), and Kelly Foley (Keith).  She also has a step-daughter, Kandye Griffin (Jack).  They  had twelve grandchildren; Brandon King (Erin), Kelsey Spillars (Steve), Nathan King (Aly), Kristin Alvarado (Anthony), Kyle King (Julie), Kaitlyn Bourque (Derek), Ragan Roth, Caroline Roth, and Madelyn (Maddi) Roth  Kari Fertita (Chris), Jennifer King (Jeff), Daniel Haugen (Molly).  They have produced 14 great grandchildren. 
 At the age of 21, she eloped to Mexico to marry Tom King.  They had 3 children. 
Her 51 year marriage to Tom included many adventures that included fishing, camping, hunting, and living in Mandeville, Jamaica, for 5 years.
She enjoyed her children and her grandchildren very much.  Her lifelong dream was to have a green thumb.  She debunked the myth that practice makes perfect because she killed every plant that came her way, including the African Violets that were in a self watering pot.
She is preceded in death by her husband, parents, and brother, Jack Goodrum.
A celebration of her life will be at Crowder Funeral Home in League City on December 3, 2022 at 10:00am.