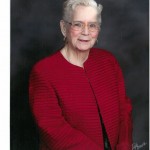 Faye Sullivan 91, passed away on June 22, 2014 at Mainland Medical Center in Texas City, Texas. She was born in 1922 to James and Elva McBee in Cove, Arkansas.
Faye was a friendly outgoing person. She truly never met a stranger. Faye was very generous, giving regularly to many charities. She worked at Union Carbide as a switchboard operator for many years. She was a devoted member of the Mainland Medical Center Auxiliary.
Faye enjoyed watching sporting events of all kinds. She and Dan traveled to many PGA events including the Masters Golf tournament.
Faye was preceded in death by husband, Daniel William Sullivan, parents, James and Elva McBee, sisters Pauline and Willie Maye McBee, brother James McBee, niece Mrs. Joan Gregory, nephew,John Langley and great nephew Michael Langley.
She is survived by nieces, Dr. Karen McBee of Lufkin, Mrs. Jean Langley of Mexico City; nephews Dr. William E. McCarron and wife Bobbie of Austin, Dr. Fred Gregory of Houston, great nieces, Laura Gunkle, Katherine McCarron, Megan Price,
Lisa Etchegaray and Beth Langley, great nephews, Ray Gregory, Dr. Tom Gregory, Daniel McCarron, Jack Langley, and numerous other relatives and friends.
The family gratefully acknowledges the love and support that Faye received from Lucy Williams and Brindy Myers during these last few years.
The family expresses its thanks to Dr. Fred Gregory and Maria Gomez, P.A., for their medical care of Faye over the years.
Memorials may be made to the charity of your choice.
Burial of Ashes will be at 2:00 pm on Wednesday July 2, 2014 at Galveston Memorial Park in Hitchcock, Texas with Jerry Esmond officiating.