Father Robert Matzinger, CSB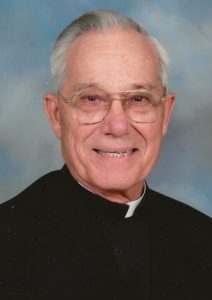 Father Robert Matzinger, CSB died peacefully on September 21, 2022.  He was 93 years old and had been a member of the Congregation of St. Basil (Basilians Fathers) for 74 years and a priest for 65 years.
Father Matzinger was born in Houston on August 15, 1929, to Frank G. Matzinger and Marie Allison.  After graduating from St. Thomas High School in 1947, where he first met the Basilian Fathers, he entered Basilian Fathers Novitiate in Rochester, NY and was made first profession of vows on September 12, 1948. After completing his course work at Assumption College, he obtained a B.A. degree from the University of Western Ontario in 1952.  He taught for two years at St. Thomas High School before beginning his bachelor's degree in Sacred Theology from the University of St. Michael's College in Toronto, Ontario.  He was ordained a priest on June 29, 1957.
After 20 years of teaching, being Athletic Director and coaching at St. Thomas High School, Fr. Matzinger began ministering in parishes – St Catherine, Houston, Sacred Heart, Manvel, St. Theresa, Sugar Land and lastly at St. Clare, Houston.
Warm and affable, Fr. Bob was much loved and respected by his students, the student athletes and parishioners wherever he was.  Fr. Matzinger was preceded in death by his parents, and two of his brothers, John and James.  He is survived by his older brother, Frank, and his wife, Jeanette, and his youngest brother, Thomas and his wife, Shirley along with many nieces and nephews.  He is mourned by his Basilian brothers and the many people whom he served over the years.  Fr. Matzinger suffered from dementia for the past several years.  Special thanks to Becky and Terry Sheehy who oversaw his care.
A concelebrated funeral Mass will be held at St. Anne Catholic Church on Tuesday, September 27 at 10:00 a.m.  Burial will take place at a later date in the Basilian plot at Forest Park Cemetery, Lawndale.