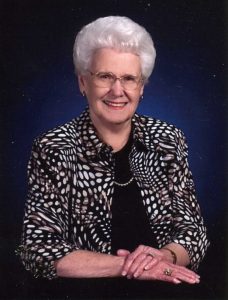 Evelyn Myracle Mills age 94 passed away peacefully Thursday December 29, 2022, in League City, Texas.  Evelyn was born April 3, 1928, in Electra, Texas.  Memorial service will be held at 2:00 p.m. Thursday, January 5, at Crowder Funeral Home in Dickinson, Texas.  Her final resting place is Forest Park East, Webster, Texas.
She is survived by her son Mike Mills and wife Joyce Kopecky of Dickinson, daughters Beth Mills Alexander and husband Mickey of Friendswood, Phyllis Mills Korndorffer and husband Blair of Clear Lake City and Anita Russell Mills, wife of Chuck Mills.  Nine grandchildren and twenty-two great grandchildren.  She was a loving Mother and Grandmother.
Preceded in death by her husband Charles Mills and son Chuck Mills.  Her mother Jennie Keesee Myracle and father Truman M. Myracle. Sister Elizabeth Myracle Hargis and Brother Truman (Sonny) Myracle.
She was a longtime resident of Dickinson and member of Dickinson United Methodist Church.  Employed by the Dickinson Independent School District as school Secretary and Administration Bookkeeper for more than 20 years.  She and her husband Charles were avid golfers and bridge players.
Our heartfelt thanks to all the special caregivers at The Crossing that have done so much over the years for her. In lieu of flowers, donations may be sent to American Lung Association.