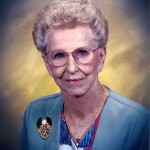 Evelyn "Jill" Magliolo, 89, of League City, Texas, passed away February 13, 2014. Jill was born October 13, 1924 to Joseph and Millie Podojil in Eagle Butte, South Dakota. She was a member of St. Mary's Catholic Church, League City. She was preceded in death by her parents and by her beloved husband, Dr. Amedeo Magliolo.
Jill is survived by daughter, Roberta Ann Magliolo and her sons, Michael Magliolo, M.D & wife, Diane, Thomas Magliolo & wife, Dyane, Jimmy Magliolo & wife, Dianne, and Richard Magliolo & wife, Sally. Also surviving are eight grandchildren, Corey, Paddy, Travis, Tyler, Matthew & Kelsey Magliolo, Steven Coleman and Christy Morgan.
A visitation will be held Sunday, February 16, 2014 from5:00 p.m. to7:00 p.m. at Shrine of True Cross Catholic Church, in Dickinson, Texas. There will be a mass in Jill's honor on Monday, February 17, 2014, 10:00 a.m at The Shrine of True Cross Church with interment following at Mt. Olivet Catholic Cemetery, Dickinson, TX.
Serving as pallbearers will be Corey Magliolo, Paddy Magliolo, Travis Magliolo, Tyler Magliolo, Matthew Magliolo, Steven Coleman and Carter Dale.
Memorials may be made to DISD Educational Foundation, P.O. Drawer Z, Dickinson, Tx.77539; Alvin Community College, Computer Science Dept.3110 Mustang Rd., Alvin, Tx.77511; or Federation of Houston Professional Women Educational Foundation, 1914 Sandy Schoals Dr., League City, Tx. 77573.