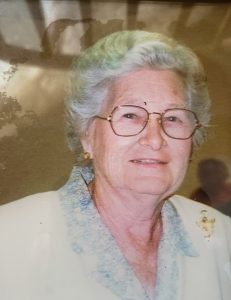 Evelyn I. Bristow went to be with the Lord, Saturday, December 1, 2018.  Evelyn was born in Anderson County, June 18, 1929 to Lawrence and Lucille Ingram.  She was married to Jimmy Bristow on September 25, 1946 and they eventually moved to Texas City.
Evelyn worked at Weingarten's grocery store in the bakery department for several years. She later retired and her greatest joy was being involved in the raising of her grandchildren and great-grandchildren.  She was also very active in her church and was a blessing to many.
She is preceded in death by her husband, parents, sisters: Cynthia and Marg Ingram, Wanda Hardy and husband Bill, brother-in-law Charles Hancock, and son-in-law David Shaunesey.
She is survived by daughters: Sharon Shaunesey and Penny Dale and husband Adam; and son Michael Bristow and wife Joyce; her brothers: Jay Ingram and wife Polly, and Tom Ingram and wife Susan; sisters: Earlene Hancock and husband Robert Williams and Sue McGill; beloved grandchildren and great-grandchildren Stephanie Gray, Brian Shaunesey and wife Candice, Dalton and Alyssa Dale, Ashley and James Bristow, Cullen Gray, Landon, Kaden and Scarlett Shaunesey.
A friends and family fellowship and lunch will be held Saturday, December 8, 2018 from 12:00 to 1:30PM followed by a Celebration of Life at 2:00PM at the First Assembly of God of Texas City with her Pastor Jim Kautz.
We would like to thank Essential Hospice for their loving and supportive care during her last months.  During the last year we were blessed with wonderful loving and caring caregivers Holly Gear, Diza Grimes and Larry Livengood.  They were responsible for her feeling loved and well taken care of her last year.
In lieu of flowers a donation may be made to First Assembly of God Youth Building Project.