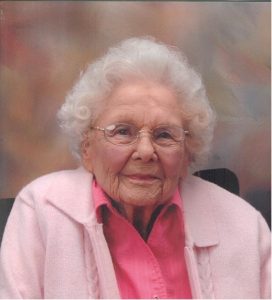 Eunice McBee Boudreaux, 99, of Nassau Bay, Texas, beloved mother, grandmother, great grandmother, aunt and friend, joined her lord and savior Jesus Christ and her husband of 49 years, Neville Peter Boudreaux who she loved with all her heart, on September 26th, 2017.
Mom was the glue that held our family together and we will all have special memories of a woman who dedicated her life to those she loved. We could always count on her to be there for us in times of need.
A celebration of her life will be held at Crowder Funeral Home in Webster, Texas on Friday September 29th at 11am.   A graveside service will immediately follow at Galveston Memorial Park Cemetery in Hitchcock, Texas.
Her grandsons and great grandsons will have the honor of serving as her pallbearers.
The family wishes to extend heartfelt gratitude to her caretakers of 12 years, Margaret and Acie Barentine, who lovingly cared for her with unwavering devotion and commitment and also to her physician of 32 years, Dr. Howard Dillard. His kindness, thoughtfulness and extraordinary care will always be greatly appreciated.