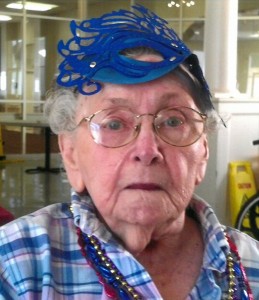 Eunice Mary Emma Bazemore went to be with her Lord on December 31, 2014. She was born on January 17, 1925 in Philadelphia, Pennsylvania to Edward and Orpha Artman.
Eunice is survived by her daughters Gail Bazemore and Alma Bazemore; son Wayne and wife Janet Bazemore; grandsons John Thomas Bazemore, Wayne Bazemore Jr., William HenryBazemore and Brett Michael Bazemore; granddaughter Dewanna Dean and husband Patrick and great grandson Jayden Li Wong.
A Memorial Service will be held Saturday, January 17, 2015 at 10:30 am at St. George Episcopal Church at 510 13th Ave. North in Texas City.
Attendees are encouraged to wear bright colors in honor of Eunice Bazemore, who loved bright colored flowers.
In lieu of flowers donations may be made to Hallmark Hospice 1325 Space Park Drive Suite C Houston, Texas 77058 or Ashton Parke Care Center 210 Gulf Freeway Texas City, Texas 77591.