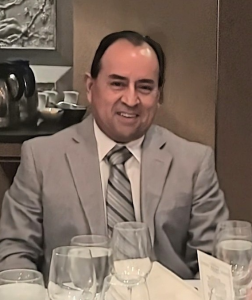 Ernesto C. Reyes, 74, passed from this life on the 7th of September 2022 in Clear Lake, Texas. He was born on the 11th of August 1948 in Los Fresnos, Texas. He was the son of the late Jesus Reyes and Agustina Castillo.
Ernesto grew up as a migrant worker in the fields of South Texas. Ernesto's hobbies included drum and guitar playing, football and the occasional street race. After graduating from Los Fresnos High School, with guidance from his eldest brother, he attended Texas Southmost College and received a degree in Business Administration. He then went on to proudly serve his country in the Army National Guard where he received an honorable discharge in June 1975.  Ernesto married his high school sweetheart Criselda in 1971 and went on to have three children: Norma, Ernesto Jr., and Ivan. He entered the petrochemical field as a Process Operator for Union Carbide located in Brownsville, TX. He eventually moved to Dickinson, TX where he continued working for Union Carbide, Amoco, and Dow providing faithful service until his retirement in 2009. Ernesto was a devoted husband, an outstanding father, a loving and caring grandfather and will always be missed but never forgotten.
He is predeceased by his loving brothers, Ruben Reyes, and Reynaldo Reyes, Raul Reyes
To cherish his memory, he leaves behind his high school sweetheart and loving wife of fifty-two years, Criselda Arredondo Reyes: his children and their spouses, Norma and Isidro Garcia, Ernesto Jr. and Brandy Reyes and Ivan Reyes; his siblings and their spouses: Ray Ortiz, Robert and Maria Reyes, Rose Reyes, Reyna Reyes, Rachel Reyes, Rodger Reyes; his grandchildren and their spouses: Criselda Garcia and Ryan Ruiz, Isidro Garcia Jr. and Amber Allen, Ernesto Reyes III and Erika Tellez, Eric Garcia and Nicholas Garcia; his great-grandchildren: Xander Cole Ruiz and Xiomara Esmeralda Garcia.
In his honor, a vigil will be held Thursday the 15th of September 2022, from 5:00 pm to 7:00 pm with a rosary at 7:00 pm at Crowder Funeral Home in Dickinson, Texas. A funeral mass will be held on Friday the 16th of September 2022, at 10:30 am located at the Shrine of the True Cross Catholic Church in Dickinson, Texas.