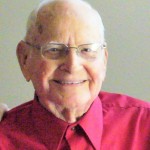 Ernest Joseph Pesek, 97, passed away peacefully on Thursday, March 27, 2014, in La Marque, TX. Ernest was born on January 12, 1917, in Wied, TX, and graduated from Jourdanton High School, where, as a talented athlete, he played football and ran track. He worked as a county surveyor in Atascosa County before joining the Army in 1941. While in the Army, Ernest served as an MP at Fort Hood, San Antonio, for two years and was promoted to Corporal; attended officer's training and received college hours in Fort Benning, Georgia, before being promoted to 1st Lieutenant; was in the 2nd wave at Normandy Beach; traveled throughout Europe during World War II; and received the Cross of Lorraine [the highest military honor in France] before returning to the states in 1945 and retiring as a Major.
On January 8, 1946, Ernest married Vlasta Pivonka, and later they moved from Kentucky to Texas City and then to La Marque, where he served as an active community member while La Marque experienced considerable growth during the 1950's. He was employed for many years at Union Carbide in Texas City as a Supervisor in the shipping department. While there, he played on the company basketball and baseball teams. He also worked for a number of years as an insurance agent for R.V.O.S.
Ernest was a long-time member of the Queen of Peace Catholic Church, Choir, and Men's Club, Knights of Columbus, Elks Lodge, KJT Society, and the Czech Heritage Club. He served as president of the Czech Singer's group and sang in 3 Czech records. He also helped coach boys' baseball when his children were growing up.
Known as a witty jokester and story teller, Ernest will be remembered for his friendly smile, funny anecdotes, and genuine interest in others. He was an avid reader and historian who enjoyed crossword puzzles and time spent outdoors. As a father, brother, relative, and friend, he was always quick to help others, and his optimistic outlook on life and can-do attitude will be missed by all who knew him.
Preceding Ernest in death were his eldest and youngest sons: Richard and Martin Pesek; five brothers: Louis, Ben, B.J., Mark, and Jerry Pesek; and two sisters: Lillie Pesek and Ann Foster.
Ernest is survived by his loving wife of 68 years, Vlasta; and four sons, two daughters, a daughter-in-law, and their spouses: Dennis and Lee Ann Pesek of Houston, TX; Jim and Darla Pesek of Poteet, TX; Pat Pesek of Austin, TX; Marilyn and Bruce McFarland of Missouri City, TX; Glenn and JoAnna Pesek of Friendswood, TX; Laurie and Garry Green of Santa Fe, TX; and Grace and Roger Truitt of Friendswood, TX; as well as numerous grandchildren and great-grandchildren. He is also survived by three brothers and two sisters, and their spouses and children: V.J. Pesek of Corpus Christi, TX; George and Anna Pesek of Corpus Christi, TX; Charles and Mary Pesek of Houston, TX; Marie and Jim Burrus of Portland, TX; and Rose Martin of Jourdanton, TX.
The family would like to expend special thanks and appreciation to the caregivers who gave their time and love to Ernest and Vlasta over the past several years: Rose Lollar, Rita Guillory, Mike Harrison, and Glenda Romano.
Visitation will be held from 5-7 p.m., followed by a vigil from 7-8 p.m., on Sunday, March 30, at the Crowder Funeral Home in La Marque, TX. A funeral mass will be celebrated at 10:30 a.m. on Monday, March 31, at the Queen of Peace Church in La Marque, TX, followed by burial at the Mt. Olivet Cemetery in Dickinson, TX. Pallbearers will be his sons: Dennis, James, Patrick, and Glenn Pesek; and his sons-in-law: Bruce McFarland, Garry Green, and Roger Truitt.