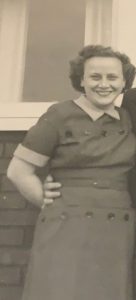 "To be absent from the body is to be present with the Lord." II Cor. 5:18
Erma Elaine Gaylor Duckworth (née Fouts) passed away in the early morning hours of December 22, 2019 at 88 years of age. Erma was a loving daughter, sister, mother, grandmother, and great-grandmother.
She was born on June 7, 1931, near Mound Valley, Kansas. Erma was the youngest child of Elmer Fouts and Mildred Early Fouts. Along with older brother Gerald and older sister Anna June, the family maintained residency on a farm near Mound Valley. Growing up on the farm, she played piano, clarinet and sang.
Erma graduated from Labette County High School in Altamont, Kansas in 1949. After graduation she worked at a bank in Altamont. On July 26, 1951, she was united in marriage to the love of her life, Leo Grady Gaylor. Together, they had two sons, Steven Leo Gaylor and Kent Lee Gaylor.
Prior to starting their family, Erma and Leo enjoyed many adventures together. They lived in Cape Cod, Massachusetts for two years while Leo was stationed at Otis Air Force Base. Erma worked at a bank there, and they enjoyed many weekends exploring the New England coast. While Leo was stationed in Germany during the Korean War, Erma returned to her parent's home in Mound Valley and worked for Continental Can in Coffeyville.
When Leo returned home from the War, the couple lived in several towns. At one point, they lived again in Mound Valley and attended the Methodist Church there where Erma played the piano and sang. They finally established their home in Coffeyville, Kansas, and Erma was able to enjoy her time as a stay-at-home mom to Steve and Kent. She served as a room mom for both of her boys and instilled her love and talent for music in both of them. Both Steve and Kent went on to graduate from Field Kindley High School in Coffeyville and attended college. Leo and Erma enjoyed many trips to Pittsburg to visit Steve at Pittsburg State and to Lawrence where Kent attended the University of Kansas.
Sadly, Leo passed from this life too early in November of 1985. But Erma found companionship and comfort in her second husband, Raymond Dale Duckworth. The two were married in November of 1986.
One of the greatest joys of Erma's life was being a grandmother to six grandchildren – Christopher Gaylor, Andrew Gaylor, Matthew Gaylor, Lauren (Gaylor) Hughes, Emily Gaylor, and Rachel Gaylor. Each of her grandchildren had a special relationship with Erma.
Erma was preceded in death by her first husband, Leo Gaylor; her son, Steven Gaylor; her second husband, Raymond Dale Duckworth; her brother, Gerald Fouts; her sister, Anna June Fouts Smith; her parents, Elmer and Mildred Fouts; and other close cousins, nieces and dear friends.
Erma is survived by son Kent (Karin) Gaylor of League City, Texas; her grandchildren Christopher (Lauren) Gaylor of Liberty Township, Ohio; Andrew (Sara) Gaylor of Hutchinson, Kansas; Matthew Gaylor of Oklahoma City, Oklahoma; Lauren (Jonathan) Hughes of McPherson, Kansas; Emily Gaylor of Houston, Texas; Rachel Gaylor of Lawrence Kansas; daughter-in-law Karen Gaylor of Tulsa, Oklahoma; great-grandchildren Reed Gaylor, Kelsi Gaylor, and Noah Gaylor; sister-in-law Lola Mae Fouts of Mound Valley, Kansas; and many other family members and friends.
Erma was so special to all who knew her, and she will be greatly missed. Her family finds comfort in the fact she loved her Lord and Savior, Jesus Christ, and is reunited with her husband Leo in Heaven.
The funeral service will be held at 2:00 PM, Monday, December 30, 2019, at the Mound Valley United Methodist Church with Rev. Han officiating. There will be an interment held at the Mound Valley Cemetery following the service. In lieu of flowers, the family requests donations be made to https://www.amazingplacehouston.org/donate/ or https://www.bayharbourumc.org/.