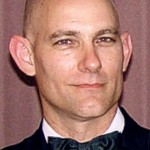 Eric Holmes May died October 14, 2014 after a courageous 9-year fight against service-connected ALS, with Gretchen holding his hand.  He gave his life for his country.
Born January 9, 1960, Eric was a native Houstonian who enjoyed people, classical and classic vinyl music, Texas football, hiking, camping, and cycling.   He was a second-degree black belt in Tae Kwon Do.
Eric joined the U.S. Army in 1977.  He achieved the rank of Captain and perfected skills in linguistics, public affairs and military intelligence.  He graduated Cum Laude from the University of Houston in 1985 with a B.A. in classical studies.  He spoke Russian, Spanish, Greek and Latin.
He taught high school for a while, where he astonished students by playing several games of chess, simultaneously.  He was awarded Teacher of the Year and received a certificate of appreciation from the City of Houston for stopping a gang from terrorizing students.
His true passion was writing.  He wrote editorials for KPRC news.   He published numerous op-eds in the Houston Post, Houston Chronicle, The Wall Street Journal The Lone Star Iconoclast and Veterans Today. He was also a poet and showered Gretchen with his poetry.
He loved politics and debate.  He founded Ghosttroop.net, a collaboration of civilians and servicemen who argued and wrote about military and national issues.
To mourn him, Eric is survived by his wife and devoted caregiver, Gretchen; his mother, Carolyn; his children, Caroline and Andrew; son in law, Chris; siblings, April, Melody and Philip; and numerous other loved family and friends.   His beloved father, Harry Holmes May preceded him in death in 2012.
Eric and Gretchen are forever grateful to the many caregivers, doctors, nurses and respiratory therapists who educated, cared, and supported them throughout his illness, particularly his niece, Victoria White, and the medical staff of 3D at the V.A. Hospital.
In lieu of flowers, please donate to an ALS Charity or to the Wounded Warrior Project.  Remember Eric on May Day by showing appreciation to a nurse or caregiver in his memory.
Take a walk today, feel the sun on your face, the Texas wind in your hair and know that Eric is in God's loving hands and he is at peace.
A 9:00 a.m. visitation, 10:00 a.m. rosary, and 10:30 funeral mass are scheduled for Tuesday, October 21, 2014 at St. Helen's Catholic Church in Pearland, Texas.  His burial with military honors will be 1:15 p.m. at the Houston National Cemetery.