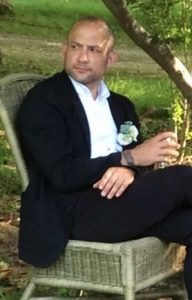 Eric Galen Anthamatten, 43, tragically passed on May 22, 2021 in San Pedro Pochutla, Oaxaca, Mexico while traveling.  Eric was born in Galveston, Texas at St. Mary's Hospital, Galveston, TX on February 23, 1978.  Eric graduated from Dickinson High School, Dickinson, TX in 1996, National Honor Society, lettered in Football receiving All District honorable mention.  He received the following degrees:  B.S. Political Science – Texas A&M University (2000), MA Philosophy – Texas A&M University (2003), and a Ph.D. – The New School University (2014). During his undergraduate studies at Texas A & M, he was an Official Rhodes Scholar Nominee in 2001 and 2002.  Up to the time of his passing, Eric taught in the following universities:  Professor, The New School, Global Studies Program, New York City, NY.  Post-doctoral Teaching Fellow, and Instructor, Philosophy and Human Nature, and Ethics, Fordham University, the Bronx, New York City, NY. Visiting Instructor, Social Science & Cultural Studies, Pratt University, Brooklyn, New York City, NY.  Part-Time Asst. Professor, Parsons School of Design, New York City, NY.
Eric was a talented, multidisciplinary writer, philosopher, teacher, musician, and filmmaker.  From the age of 7, he was dedicated to training in various martial arts, consistently establishing himself as an accomplished competitor in tournaments, and becoming a 6th degree black belt in karate.  He published essays on racism, incarceration, education, and emancipation in The New York Times, The Mantle, The Atlantic, and other newspapers and magazines. He participated as a sound designer and performer on various theater productions.  A tireless advocate for prison reform, he dedicated many years to the project of creating The Museum of the Incarcerated American, an installation aimed at expanding the public debate around mass incarceration.  Eric was a passionate, dedicated, committed educator. His courses addressed hard questions and complex material and approached the classroom with great responsibility, openness, and a willingness to learn continuously.
Eric loved all living things, enjoyed many travels throughout the world, and making many dear friends along the way.  He was known by all as a kind, compassionate and loving person.  He sometimes used the name Eric Anthamatten-Dominguez to honor his beloved Mother as Dominguez was her maiden's name.  Eric is survived by his parents:  Fred and Mary Anthamatten, brother Dustin Anthamatten, sister Kara Cranfill, her husband Allan Cranfill, their children Isabell and Philip, and numerous uncles, aunts, cousins, and lifelong friends and colleagues worldwide.
Preceding Eric's passing were his loving grandparents Paul and Gladys Anthamatten, Catalina Telles, and Gilbert Dominguez, and his beloved nephew Joshua Cranfill.
Visitation will be at Crowder Funeral Home, 851 Farm to Market 517 Rd W, Dickinson, TX 77539, Friday, June 11, 2021 from 5:00 – 8:00 pm.  The funeral service will 10:00 a.m. at Shrine of the True Cross Catholic Church, 300 Fm 517 Rd E, Dickinson, TX 77539
Pallbearers for the service are Dustin Anthamatten, Patrick Dominguez Steve Moore, Al Garza, Shay Smith, Jesse Dykman.
Eric set the groundwork for continuing his work for education of the incarcerated.  In lieu of flowers, donations may be made to The Eric Anthamatten-Dominguez Memorial Fund. The Eric Anthamatten-Dominguez Memorial Fund will support the Education Department at The Fortune Society. The Fortune Society's mission is to support successful reentry from incarceration and promote alternatives to incarceration, thus strengthening the fabric of our communities. Through his life work, Eric embodied this mission. https://donate.fortunesociety.org/give/343398/#!/donation/checkout