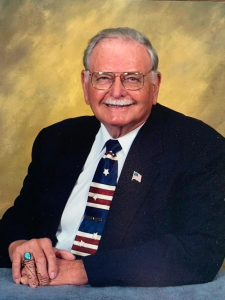 Emmit Franklin Cole – was born December 17, 1930 and passed peacefully from this life the morning of November 12, 2022, at home, where he loved to be.
Though born in Princeton, NC, Frank considered Clayton, NC his hometown. He was a 1950 graduate of Wilson's Mills High School where he was both an athlete and valedictorian.
Frank joined the US Army after completing one semester of a local college. He served his country in the Korean War, both in battle and in feeding the troops. After his tour in Korea, he was stationed at Fort Sill where he fell in love with a redhead, named Faye Shelby, who later became Mrs. Faye Cole.  He set a beautiful example in loving and caring for Faye until her passing.
After Frank's honorable discharge from the Army, the birth of 2 sons (Art, and Roger), and returning to his college studies, he successfully completed his Bachelor of Science degree in Mechanical Engineering from North Carolina State University. Though the degree was quite a reward to his efforts, his two sons were his great joy.
Frank then began the next chapter of life as an engineer for DuPont in Memphis, Tennessee. Frank and Faye then added a daughter to the family (Robin).  In 1967, DuPont transferred Frank to the LaPorte plant, and the family moved to League City, Texas. Frank worked his entire career for DuPont. He loved going to work.
As a father, grandfather, and great grandfather, Frank, who loved all sports, cheered his family on from the sidelines. He led his family well in faith, strength, wisdom, honesty, humility generosity and gratitude, being a good steward of what God had given him. He prayed for his family by name daily.
When he was able, Frank loved fishing and traveling. He loved to take his family and friends out to dinner. He always enjoyed eating. He loved people. He was known as "Friendly Frank" and would occasionally refer to himself as "Extra-friendly Frank" for a dose of good humor. He was never without quick wit, and a good laugh.
Frank is preceded in death by his parents (Meta and Emmett Cole), his wife (Faye Cole) three sisters (Lola Mae Lee, Lois Schaefer, Edna Gupton) brother (Norvelle "Bunk" Cole) and son (Roger Cole).
Frank is survived by his sister (Judy Godwin) and husband (L.E.), of Clayton, NC; son (Art Cole) and wife (Bridget) of Tomball, TX; daughter-in-law (Barbara DeLeon) of League City, TX; daughter (Robin Miller) and husband (Regan) of Houston, TX; grandchildren: Lauren Cole, Rae Scott, Stephanie Lusk, David Cole, Josh Miller, and Daniel Miller; great grandchildren: Kaden Val Verde, Brooklen Cole, Ryleigh Cole and Grant Lusk. There are many that are not listed but are loved within this family circle.
Memorial service arrangements are as follows: Thursday November 17, 2022 at 4:30 pm with visitation at 3:30 pm at Nassau Bay Baptist Church, 18131 Nassau Bay Dr. Houston, TX 77058.  Phone: (281) 333-3844.
In lieu of flowers, please consider donating to any of the following in Frank Cole's name:
Wounded Warrior Project.org
Paralyzed Veterans of America
Jude's Children's Research Hospital
Nassau Bay Baptist Church Consolidated Missions Offering
To join the service online, please use the link below:
https://zoom.us/j/2948294232?pwd=ZlEydXR2N0FOaGVlTEFpeDJ4cFhqdz09
Meeting ID: 294 829 4232
Passcode: 1234