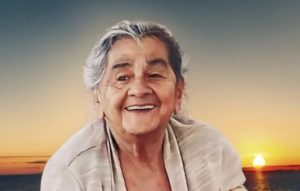 Emma Ramirez Rodriguez (85) entered into eternal rest on October 16th, 2023. She was born on June 18th, 1938 to Petra and Antonio Ramirez in Austin, Texas. She was the loving wife of the late Mateo Rodriguez and a longtime resident of La Marque, Texas.
Emma was a Property Manager for 30 years in Houston and La Marque Texas until she retired. She made many longtime friends and acquaintances by treating everyone with kindness.
Emma volunteered her time to the La Marque Citizens Police Academy and attended regular meetings for the neighborhood watch. She developed a rapport with the city of La Marque's Law Enforcement which helped serve to keep the community safe.
Emma loved to travel and Mexico was her favorite vacation destination. In her free time she loved playing bingo, dancing, singing, listening to music and devoting time to her grandchildren and great-grandchildren. Her favorite song was "Angel Baby" and whenever it was played – she would get whoever was around her to sing with her.
Emma will perhaps be remembered most as strong-willed and a woman of faith. She was exceptionally loved by many and she will be greatly missed.
She is preceded in death by her husband Mateo Rodriguez; daughter – Vanessa Villareal; sisters: Paula, Ofelia, Rebecca, Mary Louise and Tony (Ramirez); and son-in-law Jacob Chavez. Emma is survived by her children: Adam (Oliva Villareal), Wanda (Miguel Martinez), Valerie Chavez, Hilardio Bedolla, Estepfani (Edwin Puerto), Gustavo (Blanca Rodriguez), Jennifer (Laura Rodriguez), Veronica (Edwin Castilleja), Mateo Rodriguez; her sister Debbie; nieces, nephews, grandchildren, great-grandchildren and great-great-grandchildren. 
A visitation will be held on Thursday, October 26, 2023 from 11:00am – 1:00pm at James Crowder Funeral Home in La Marque, Texas. A graveside service will begin at 2:00pm at Galveston Memorial Park in Hitchcock, Texas, with Deacon John Carrillo officiating.