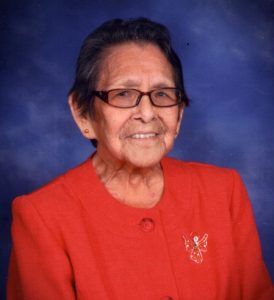 Elvira M. Silva, 92, of Dickinson, passed away in League City surrounded by her loved ones.  Elvira was born March 6, 1930 to Rosa and Tereso R. Martinez in Waelder, Texas. She was educated in Galveston schools and later in life took courses at College of the Mainland. She was a loyal member of Shrine of the True Cross in Dickinson. She and her husband Jose "Joe" Silva were the owners and operators of a convenience store/gas station for many years. Elvira will be remembered for her strong devotion to her family as a loving mother, grandmother, and great-grandmother.
Elvira was preceded in death by her husband Jose "Joe" Silva, sister Olivia Isais, and brothers Emilio Martinez and Alfred Martinez.
She leaves behind to cherish her memory her daughters Cynthia Silva, Kathleen Garza and husband Robert, and Denise S. Navarro and husband Mike; sisters Anita Lepp, Lydia Fernandez and husband Felipe, Sr., and Teresa Munoz and husband Leo; grandchildren Michael Navarro and wife Jessica, Erica Navarro, Sarah Menotti and husband Clay, and Rebecca Garza; greatgrandchildren Alaya Andres, Christelle Andres, Michael "Joey" Navarro, Jr., Trace Menotti, and Lane Menotti; and many other family members and friends.
Always caring for her daughters, she served as the room mom and band chaperone for many years. Despite her heartbreak of losing the love of her life at an early age, she continued their goal of raising their three daughters, ensuring they would all become college graduates. A strong woman that was ahead of her time, she ensured her daughters were able to excel at their careers and personal lives, maintaining work/life balance, as she assisted with caring for her grandchildren.
Visitation will be held 5:00 – 7:00 pm, Friday, September 16, 2022, with a vigil/rosary at 7:00 pm, Crowder Funeral Home, Dickinson, recited by deacon candidate, Max Silva II. Funeral Mass will be celebrated 10:00 am, Saturday, September 17, 2022, at Shrine of the True Cross Catholic Church, Dickinson, led by Fr. Larry Wilson. Interment will follow at Mt. Olivet Catholic Cemetery.
Pallbearers are Matthew Dispensa, Tom Dispensa, David Fernandez, Timothy Matejka, Joseph Silva, and Tim Tolley. Honorary pallbearers are John Isais, III and Michael J. Navarro.